Carmelo Anthony Says Leave His Wife Alone+Swizz Beatz Teams Up With Aston Martin Rapide
​
Jan 13 | by Natasha
​ ​ ​ ​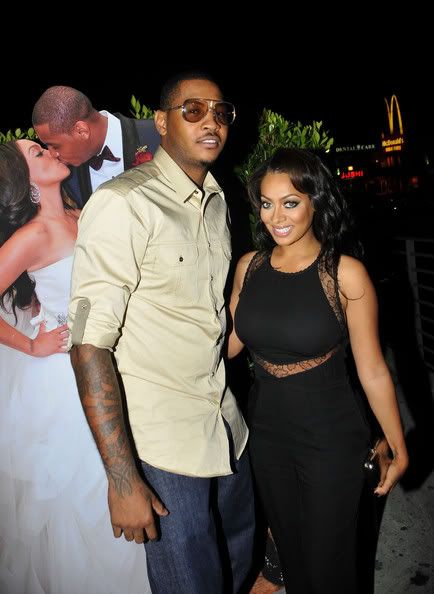 Carmelo is putting the smack down on those rumors that his wife, LaLa Vazquez Anthony, has anything to do with him wanting to be traded out of Denver. His harsh words for the haters and doubters, plus Swizz Beatz's first look at his fab collabo with Aston Martin...
After Melo turned down a $64 mill 3-year extension deal for the Denver Nuggets, folks were up in arms saying he may be going bacck home to NYC to the NY Knicks or Nets because LaLa is pushing him to leave Denver.
Melo told reporters to leave his wife out of it because "La La has nothing to do with anything!" Yahoo Sports reports:
Anthony was in good spirits while answering media questions following his 28-point performance in a 132-98 blowout of the Phoenix Suns on Wednesday. But once he was asked about the perception that his wife was calling the shots on his NBA career, his mood instantly changed.

"Y'all put this in bold words, La La has nothing to do with anything," Anthony said. "Whatever is my decision, she is going to support me. She has nothing to do with me staying or leaving. Nothing. So please keep her out of it. Thank you.

"People have to write about something and [they] come up with, 'She don't want to be here.' She has nothing to do with that. This is my career. This is my decision. Of course, I got to consult her with everything. It wasn't one conversation I had with her where she said, 'Let's get out of Denver.' "

"It's normal, you got to consult with your family about decisions like that," Anthony said. "That's all she has been doing. She hasn't had any say-so what I should do or where I should go."
Rep for your wife Melo!
Swizz Beatz has joined forces with the uber luxe British vehicle company Aston Martin to create a unique film trilogy showcasing the iconic company's stunning new sportscar, the Rapide. Aston Martin and Swizz Beatz just released Part I of the series:
HOT.
​ ​
​ ​ ​