OH SNAP!: Steve Harvey's Current Wife, Marjorie, Is SUING Steve's Ex-Wife Mary!
​
Jan 25 | by Natasha
​ ​ ​ ​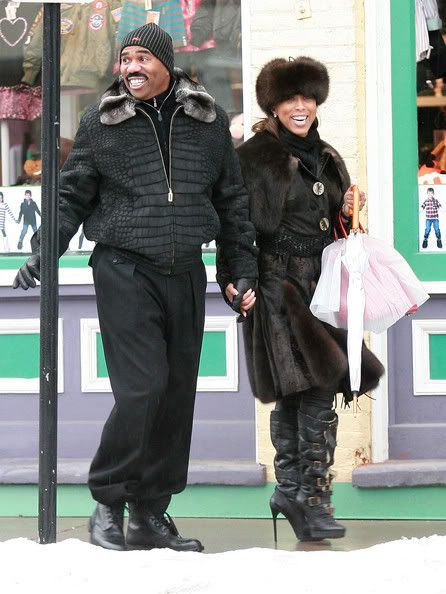 We told you this ish would get uglier. After Steve Harvey's ex-wife, Mary Harvey, released 2 sets of Youtube videos blasting the comedian about his mistresses--including his current wife Marjorie Harvey--and accused Steve of evicting her from their marital home and leaving her broke and homeless, Marjorie is now fighting back!
Read on for the deets about Marjorie denying the shocking allegations, and readying her own lawsuit for Ms. Mary....
The current Mrs. Harvey isn't taking this Steve Harvey drama laying down. Marjorie told BlackVoices.com that she is retaining her own lawyer to fight Mary's incredible allegations that she cheated with Steve while he was still married to Mary. Marjorie is also standing up for her man as Steve has been urged to stay quiet about all of this. And Marjorie says the allegations about Steve taking their now teenaged son, Wynton, from Mary are just foolish.
According to BV:
Now, the New York Times Bestselling author's current wife has retained an attorney to fight the allegations that she was the other woman, something that she said has left her both "shocked and dismayed."

Mrs. Harvey is pursuing a lawsuit against Shackelford.

"As a wife and a mother, I cannot stand back and allow the defamation of my character or actions that will malign my family," the philanthropist said in a statement released through her attorney C. Anthony Mulrain, exclusively released to BlackVoices.com.

"So, I will do what I need to do to the greatest extent of the law."
Goodness! I see the 2010 year of the (alleged) mistress is carrying over into 2011. Now they're getting their lawyered up and snapping back at accusations.
This ought to get interesting...
​ ​
​ ​ ​