O SNAP! Gilbert Arenas Served Child Support Papers During Halftime!
​
Feb 05 | by YBF
​ ​ ​ ​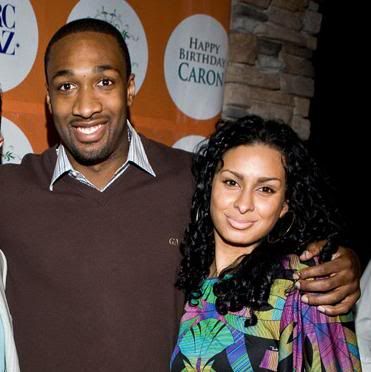 You can run but you can't hide, literally. So ish just got more real and more embarrasing for Gilbert Arenas. The Orlando Magic baller was served those child support papers (the ones he's been dodging for weeks now) during halftime of Thursday's game against the Heat.
Read more about how he got served and how his baby mama 4 times over, Laura Mendoza Govan, is not letting him cut her out of what she feels she deserves...
According to CBS Sports, on Thursday night, during the Orlando Magic's game against the Miami Heat, a server stopped Arenas as he walked off the floor and served him court documents regarding a California petition filed by Laura Mendoza Govan, who is pregnant with their fourth child, and previously claimed he abandoned herand their three kids with no support.
Last month, we reported that Laura filed a petition with her attorneys that detailed Gilbert's crazy spending habits, just how often he kicked her out of the house, miscarriages, her allowance, and him being a deadbeat.
And in the petiton served on Thursday night, Laura is seeking $109,000 in monthly support payments from Arenas and $1.3 million annually. Damn!
Govan states in the documents that she and Arenas had about a nine-year relationship that included a September 2008 engagement. The documents also say they lived together in a pair of homes that Arenas owned in Virginia while playing with the Wizards.
Wow! This explains why Arenas' game was off during the second half Thursday night. Seems like that Karma bus came and hit both her and her sister Gloria. Notice neither one is having "happy times." Can't lie though, Laura sure would make an interesting character if she was ever casted for "Basketball Wives."
​ ​
​ ​ ​