MOVIE FAB: Fantasia Gaining 45 LBS To Play Mahalia Jackson!+Kerry Washington Set To Lead New Shonda Rhimes Drama!
Feb 09 | by Natasha
Both Fantasia and Kerry Washington, who are both repped by CAA, are embarking on new lead roles in the tv and movie world. We've got the deets on Fanny's Mahalia Jackson role, plus Kerry Washington's new ABC drama she's set to star in, when you read on...
After her own Lifetime movie, Life Is Not a Fairy Tale: The Fantasia Barrino Story, back in 2006, Fantasia is now set to play the leading role of another famous singer's life.
Gospel legend Mahalia Jackson, who died at the age of 60, will have her life story hit the feature-film circuit, and Fantasia will reportedly be gaining 30-45 lbs to portray her.
According to the Hollywood Reporter:
The Season 3 ["American Idol"] winner is slated to appear in a feature-film adaptation of the 1993 book Got to Tell It: Mahalia Jackson, Queen of Gospel, which recounts the life of the late American gospel singer, a civil rights activist who was also inducted into the Rock and Roll Hall of Fame.

The CAA-repped Barrino, whose biggest post-Idol gig to date was playing Celie in the Broadway version of The Color Purple, will portray Jackson on her journey from abject poverty in New Orleans to her rise as a global figure in gospel and early supporter of Martin Luther King, Jr.
The film will be directed by Euzhan Palcy (A Dry White Season) from a script by Jim Evering, and goes into production April in Pittsburgh and Chicago for a December release.
This might actually be the perfect role for her. Time will tell...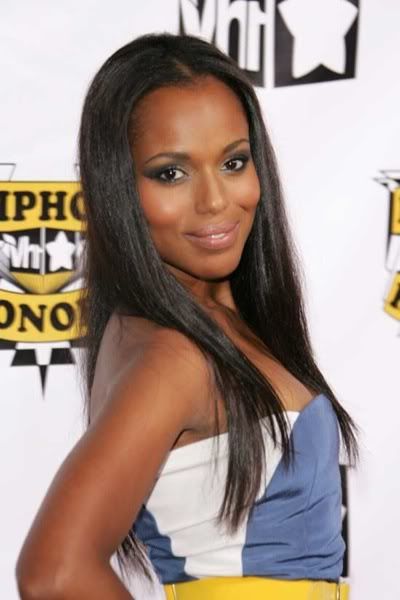 And actress Kerry Washington has some big news of her own. She's just been cast as the lead in famed director/producer (and fellow YBF chick) Shonda Rhimes' new ABC drama called "In Crisis".
This will be Kerry's first regular tv gig, and she was exactly who Shonda and the ABC Studios had in mind when writing the role. The role was one of very few in tv written specifically for an African American lead actor.
The fabulous Ms. Washington will be starring opposite actor Columbus Short. According to Deadline Hollywood:
Actor-dancer-choreographer Columbus Short (Stomp the Yard) is set to co-star in the pilot based on the career of famous crisis management consultant Judy Smith. The pilot, from ABC Studios, revolves around the life and work of professional fixer Olivia Price (Washington) and her dysfunctional staff. Olivia Price is described as something of a legend, a formidable, driven, insightful, intuitive and fearless woman. Short will play a lawyer on her team.
The rest of the roles on the pilot are being cast colorblind, which is also how Shonda cast her hit series "Grey's Anatomy." Shonda also created "Private Practice" and the new drama "Off The Map."
LOVING this already for Kerry. Congrats to all the YBF folks!