Updated: MAGAZINE FAB: Beyonce Covers "L'Officiel Paris" Magazine And Does Blackface!? + Video of Shoot
​
Feb 19 | by YBF
​ ​ ​ ​
In honor of L'Officiel Paris Magazine's 90th anniversary, the staff thought it would be a great idea to put the triple threat diva, Beyonce, on the cover. In the issue, Beyonce channels an African Queen theme, and pays tribute to the renowned Fela Kuti.
But some people are taking issue because the magazine darkened her face. Read on to find out why some folks are so angered by her photoshoot...
Beyonce will be on the cover of L'Officiel Paris March 2011 rocking a gold dress from the Gucci Spring 2011 collection and paying tribute to the legendary Fela Kuti. The magazine's photoshoot has caused quite a stir.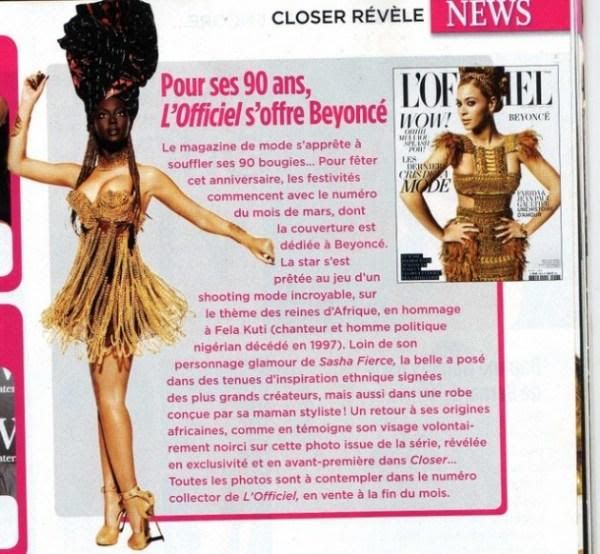 The English translation of the article reads:
"The Fashion magazine is about to celebrate its 90th birthday. To celebrathe this anniversary, the festivities start with the March issue, with Beyoncé on the cover. She agreed to pose for an incredible fashion shoot, with the theme of African Queen, paying a tribute to the legendary Fela Kuti (a political singer who died in 1997). Far from the glamourous Sasha Fierce, the beauty posed for the magazine with amazing fashion designers clothes, but also in a dress created by her mother. A return to her African roots, as you can see on the picture, on which her face was voluntarily darkened. All the pictures will be available in the collector edition, on sell at the end of this month."
Some argue that the magazine used blackface for her photos while others believe no offensive should be taken at all. *side eye*
Although many Americans won't sit well with these photos, Beyonce did allow her skin to be darkened and the magazine defends its position by saying it's a return to the singer's African roots.
Updated: Check out the behind the scenes of her shoot
Speak on it ....
​ ​
​ ​ ​