UH OH! Musiq Soulchild Tumbles Off The Stage At Madison Square Garden!
​
Feb 25 | by Natasha
​ ​ ​ ​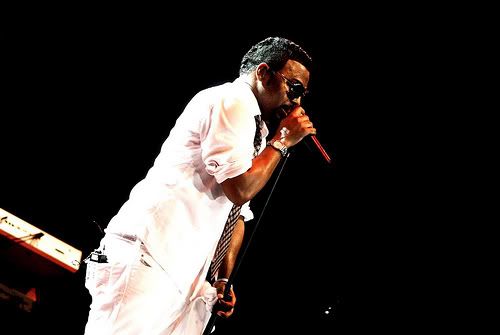 Aww damn homie. Musiq Soulchild tore it down...and fell down...at Madison Square Garden in NYC last night for his concert with Kem.
And all his hopping around the stage led to him hopping right off the stage and into a speaker. Watch Musiq take a tumble...and try not to laugh...when you read on...
See...this is a prime example of why everybody can't get extra crunk on stage. Gotta be strategic and careful about your crunkness.
Musiq tumbled off the stage while starting his track "Anything" at his concert where he had the crowd joining in on the "Ooooo-oooh's". And it quickly turned into an "Oooo-oh sh*t!".
And y'all know dude is 4' nothing so he couldn't even quickly push his self back up on the stage--had to wait for help to arrive.
*literally biting my tongue until it bleeds so I don't ask the obvious about that wondering eye having anything to do with it*
Musiq was a good sport and continued on with his set. His tweets post-concert: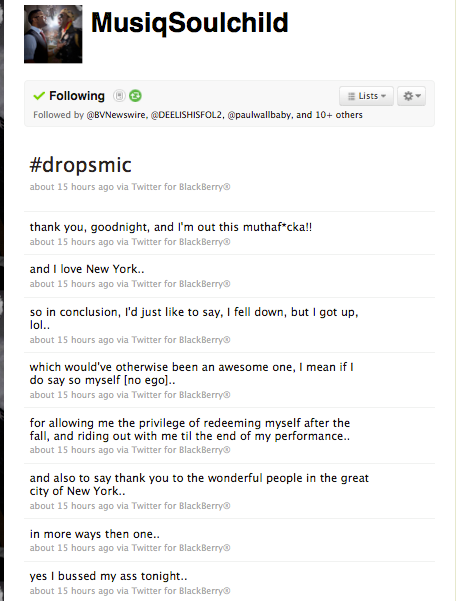 Gotta love him. By the way, he and Swizzy shot the video for their track "Anything" a couple weeks ago. So it should be dropping any day now.
​ ​
​ ​ ​