Solange Knowles, Cassie, & Selita Ebanks Named New Faces Of Carol's Daughter!
Apr 15 | by Natasha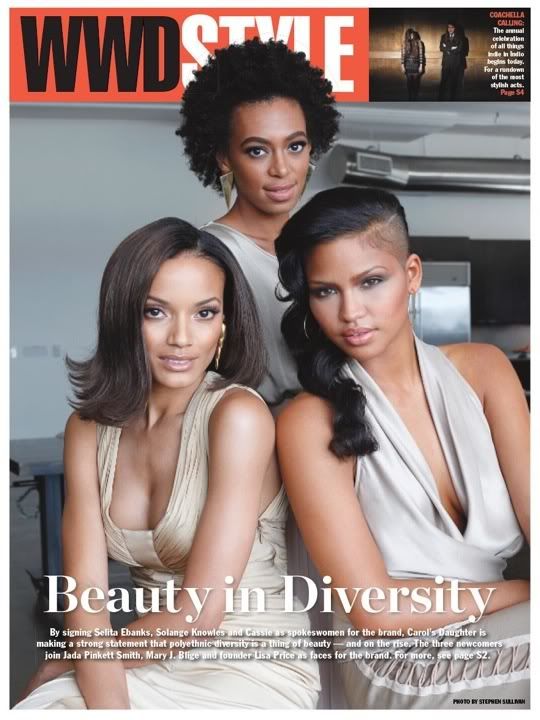 Singer/Songwriter Solange Knowles and models Selita Ebanks and Cassie just landed a fabulous new gig. They are the new spokeswomen of Lisa Price's & Steve Stoute's Carol's Daughter beauty brand.
We've got exclusive deets on the beautiful new deal when you read on...
These three ladies are putting their gorgeous looks and enviable skin and hair to good use. Solange, Selita, and Cassie are the new ambassadors and spokeswomen for Carol's Daughter (CD). Steve Stoute, chairman and lead investor in Carol's Daughter, tells TheYBF.com today in an exclusive statement:
"I am so happy and proud to have Solange, Cassie and Selita join the Carol's Daughter family. They, together with Lisa Price, Mary J Blige and Jada Pinkett Smith, share our passion of bringing beauty to a variety of skin tones and hair textures."
The first product under CD's improved brand guidelines is the Monoi Repairing Collection which works on all hair types. After one use, the product strengthens hair 13 times more than its natural state, and reduces breakage by 96%. The ad campaign for this line launches May 1st and will feature all three new Spokesbeauties.
In their new role, the fab chicks are working to redefine the color of beauty. Selita said in today's WWD:
"Carol's Daughter doesn't have just one direct demographic. Solange's hair is a different texture than mine. So is Cassie's. Our skin and body types are different. Today, people are blended. And I think the three of us are a prime example. Women in my family range from vanilla to the deepest chocolate."
Can't wait till their campaigns start to roll out. Congrats to the ladies!