MAGAZINE FAB: Mariah Carey Reveals Baby Nursery In "Life & Style" Magazine
​
Apr 19 | by _YBF
​ ​ ​ ​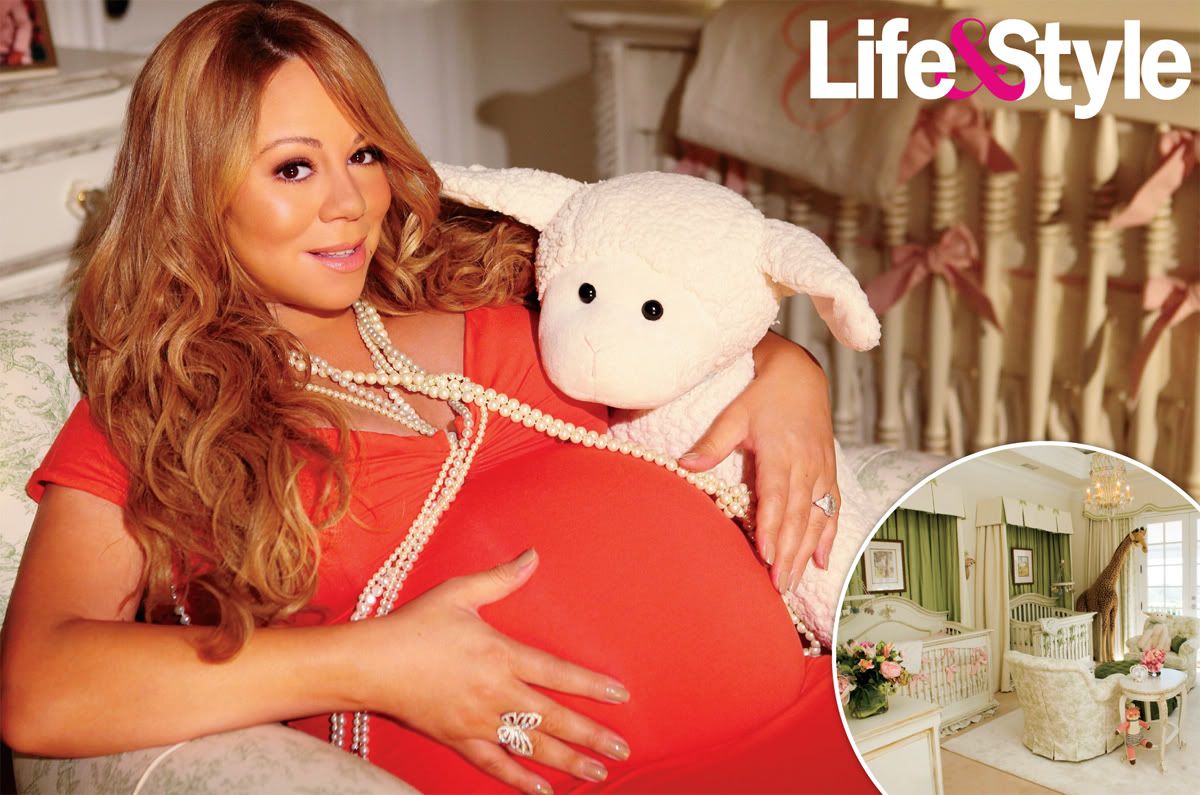 Mariah Carey offers her lambs a first look at her baby nursey in this week's Life & Style magazine (on stands Friday). See the pic inside...
In this week's Life & Style Magazine, the "Butterfly" singer reveals the design of her baby nurseries (one in Bel-Air, Calif. and one in NYC).
But don't expect the normal pink and blue items most people would use for twins. Mariah says she wanted to glam it up twin style, but she wants each child to grow up knowing they were individuals.
"Designing the LA nursery with Gail Sedigh of AFK Furniture and world-famous decorator Mario Buatta was so challenging because I had such specific ideas I wanted implemented. I feel like I'm bringing two individuals into the world, so I wanted to do more than cookie-cutter styles in blue and pink."
So what did Mimi come up with? She decided on side-by-side cribs accented with pink and green bedding. And the room is full of plush stuffed assorted animals and lambs (also the nickname for her fans).
She added,
"I wanted to create a beautiful, tranquil, cozy environment for the babies. Everything matches, but pieces are individualized to celebrate the twins as separate entities."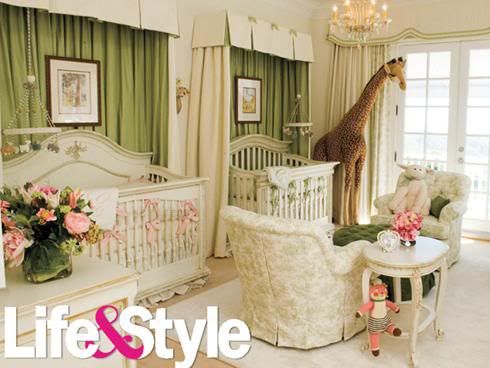 LOVES IT. And what will the babies see as the sleep the night away? Mariah had a special landscape painted for the twins....
"The ceiling has orangey-pink clouds in a blue sky with golden stars twinkling. It's based on two songs I wrote that are fan favorites: 'Underneath the Stars' and 'Close My Eyes.' Sometimes I just sit in the nursery and stare at the ceiling because I love it so much. To me, it symbolizes wanting my children to dream as big as possible and to let their imaginations be unbridled."
And though she knows the job will be hard, Mimi is ready to become a mother.
"Being a mother is probably the hardest job in the world. I feel like, in a lot of ways, children come into the world to teach us. It's going to be a delicate balance between raising them around glitz and glamour and keeping them grounded. One thing I'm sure of is that I'll be grateful for the twins every day, no matter what."
You can see more pics of both baby rooms on the stands Friday.
Photos via Bill Boatman/Lisa Rose for Life & Style
​ ​
​ ​ ​