Tamar Braxton Talks Her Nose Job, Being Jealous Of Toni, & Rumors Of Marrying Only For Money
​
May 04 | by Natasha
​ ​ ​ ​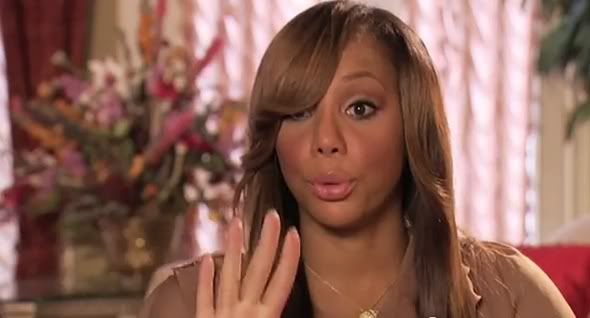 "Braxton Family Values" has been a much more intriguing show than I thought it would be. And I haven't missed an episode yet. Much of that is thanks to the youngest sister, Tamar "ItsAllAboutMe.com" Braxton. So our friends over at BlackEnterprise.com caught up with her to clear up some of the rumors surrounding her suspiciously surgically enhanced face, her multi-million dollar marriage, and how she really feels about her big sis Toni.
After the last couple of episodes, Tamar and her divalicious, fast talking, nose job loving, obnoxiously loud, and sometimes inappropriateness was in full throttle. So far on the show, she's called out all her sisters for staying with their cheating ass moochin' husbands, her sis Trina for gaining weight, her sis Traci for being a "hoodrat," and Toni for being a scene stealer. And loves to flaunt her money (thanks to her husband) in their faces.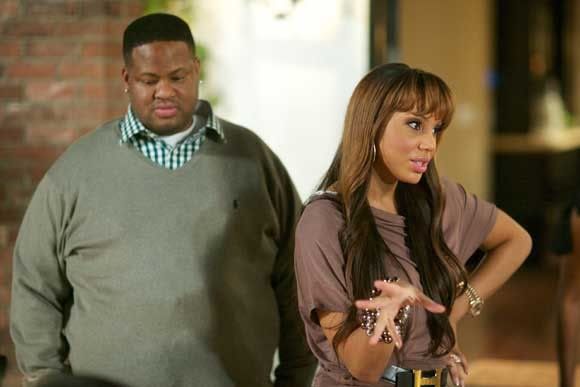 Chick still has this hope of being a superstar to make her own millions, instead of just spending her husband (above) Vince's (manager to Toni and one of the heads of Lady Gaga's career) money. And she made it very clear that she's tired of living in Toni's shadow. And her hubby is her "homie"--and she "doesn't think of him like that" when it comes to making babies. (Yes, she really said that). But according to Tamar--who is hilarious to us--we've got her all wrong. Here's a few excerpts from her recent sit-down with BlackEnterprise.com:
You've been candid about feeling like you're living in Toni 's shadow and some perceive that as jealousy. What do you say to those critics?

This whole jealousy thing is ridiculous! Toni works really, really hard. I'm proud of her, not jealous of her. I don't even want to be the same kind of artist. I care about my sisters and I'm so passionate about everything—especially them—so when people see me going off, it's just my emotions. I want to see them win and be happy. Sometimes I feel like I want to learn from them rather than them learning things from me all the time. I know a lot of things I say are things my sisters don't want to hear from their youngest sibling, but I say them.

Public perception is that you are in a loveless marriage and that you are only with your producer husband, Vince, for personal gain. What do you say to those naysayers?

Absolutely ridiculous! I find it highly offensive because me and my husband dated each other for seven years, but we've only been married for [a little more than] two years. I mean, who's gonna be with someone just 'cause they got some money and be miserable? I ain't doing that! If I didn't love my husband for who he is, then why do I want to work and have my own career? That doesn't even make any sense. Me and Vince are regular. Some days we cool, some days we want to pull each other's hair out, but that's real life because [two people] are not going to agree on everything. It also depends on what your definition of love is, it's different things for different people. Some people think hugging and kissing someone in public all the time is love, but when Vince told me [thatsthetruth.com], it was out of love because he didn't want me looking crazy, throwing temper tantrums without understanding that there's an order to things in this business.

What about plastic surgery? You're an advocate for people having it if they want to. Is there any surgery you haven't or wouldn't have done?

I believe in plastic surgery or anything you have to do to make yourself feel good. I'm all about self-esteem. I've had my nose done. I was born without cartilage in my nose and when I was 16 I had my first operation—an implant put in my nose. My father had the same surgery. The reason I had it done was because it was hard for me to breathe and I snored terribly. Itwasnotcute.org (laughs). Eventually the implant gave me headaches, so I had to have the cartilage from my ear put in my nose. I have to have it done for a second time, remove the cartilage and remove the implant, but it's so painful that I've been putting it off. But I have to have it done.
Peep the full interview over at BE. Hilarious. "Braxton Family Values" airs Tuesdays on We.
​ ​
​ ​ ​