EXCLUSIVE: DRAMA ON THE "SINGLE LADIES" SET! Stacey Dash & LisaRaye CATFIGHT & Almost Come To BLOWS!
May 06 | by Natasha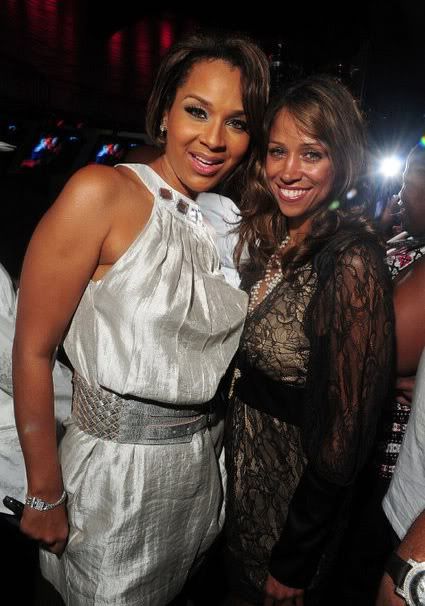 When you're extra grown and extra beautiful, you can still be ugly as all get-out. A source on the set of Queen Latifah's new scripted VH1 show, "Single Ladies," exclusively tells YBF that co-stars LisaRaye McCoy (44) and Stacey Dash (45) have been in a nonstop catfight on set! And we've got the inside deets on how Stacey almost caught a Player's Club style beat down from Ms. McCoy.
Deets when you read on....
You already know two divas like Stacey Dash and LisaRaye McCoy--who have banked off their good looks to get mediocre roles after their primes--were going to butt heads at some point on the set of their new show.
The two "Single Ladies" have been fighting like catty teens on the set. And it's all Stacey's fault! Our inside source tells us it almost came to blows yesterday while filming. And now, the LisaRaye and Stacey are resorting to sticking notes on the doors of their dressing room trailers calling each other names. Lawd!
Here's the letter we received from our source on the tv show set:
I am an actress and I have the privilege of working on the set of "Single Ladies" which is a great new show coming to VH1 in May. The cast consist of Stacey Dash and LisaRaye. I have always been a fan of Stacey Dash but after being on set and seeing Stacey I have to say beauty means nothing after seeing how she acts. She's antisocial and mean. She doesn't speak to anyone and as soon as the scene is done she immediately takes off to her trailer until the next take.

I think she's a good actress but who knew her personality was so horrible! last night she and LisaRaye got into it big time. Now we all know that LisaRaye don't take no shit and while on set, Stacey Dash wasn't doing her part correct on set. When the director came to correct her (Stacey), and LisaRaye agreed, she stuck her hand up to her giving her the hand!!! Yes Girl! I just knew Lisaraye was going to to punch her ass like she did the girl in Player's Club! lol LisaRaye was cool about it but let her know to get her Mother Fucking hand out of her face!

Girl you should have been there! lol NO ONE seems to like her on set not to mention there was a note left on her door that proves what i'm saying...
Here's the pic on the outside of Stacey's--who plays "Val"--trailer: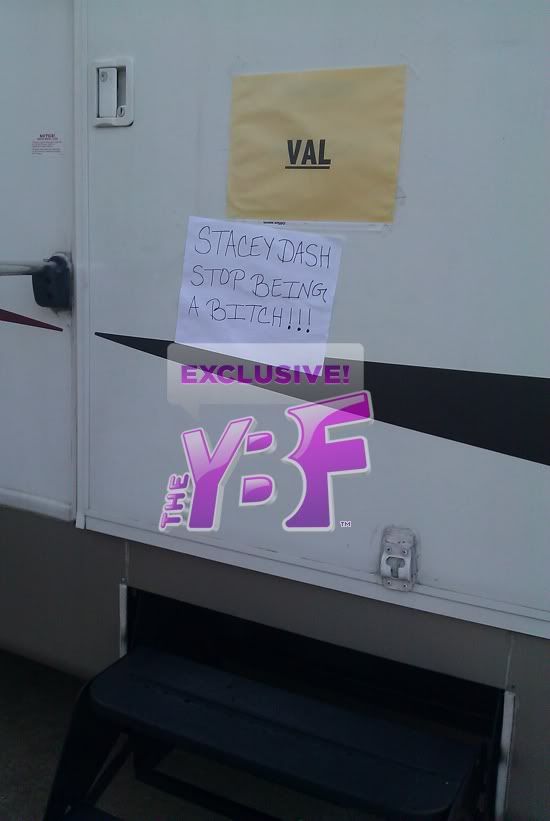 Interestingly, tabloids are reporting that Stacey has indeed been wilin' out on set and refused at one point to not come back to the set unless LisaRaye "got her ass kicked":
Dash, 45, had a bit of a meltdown while filming a new show, Single Ladies, produced by Queen Latifah, according to Us Weekly. "No, I ain't coming back unless that b*tch gets her as* kicked!," Dash said this week as she ran off the set, referring to one of the show's other stars, LisaRaye McCoy.

A source told the magazine that the outburst was unexpected and unprovoked. "It was an intimate dinner party scene so everyone was in cocktail dresses," the source said. "Stacey was screaming and running around in thousand dollar Louboutins!"
Pretty definitely aint everything Stacey. But God surely doesn't like ugly....
"Single Ladies" debuts on VH1 May 30th.