Tami Roman Dishes On Being a B.I.T.C.H., Suing Evelyn Lozada, And Why She's Back On "BBW3"
​
Jun 09 | by _YBF
​ ​ ​ ​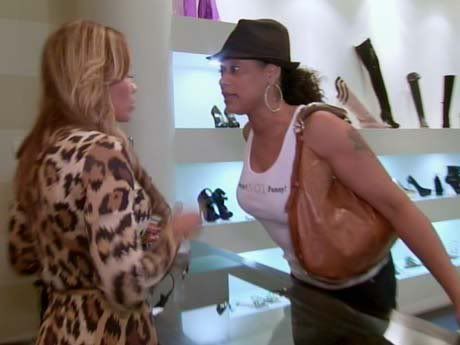 Tami Roman stopped by WBLS in NYC earlier this week to chat with radio personality Egypt. The two ladies talked about what's coming up on "BBW3" and about her new book, The B.I.T.C.H. Chronicles. Get the highlights inside.....
During their interview, Egypt reminded listeners that Tami Roman was on MTV's "The Real World" back when reality tv was in its infant stages, and she asked her why she decided to return.
Tami told listeners that her purpose for doing "BBW2" (and "BBW3") was to show that world the "other" side of being a basketball wife. Through her story, viewers saw that the marriages don't always work, the money doesn't always last and sometimes there are some hard struggles.
During one funny moment, a listener asked her how she could possibly work with Evelyn Lozada and Tami's classic response was "....a VH1 paycheck."
And she did briefly mention that she filed a lawsuit against Evelyn but said she could not talk about it because producers want that story to unfold on the show. But according to Tami, the lawsuit is the real deal.
During another funny moment, when a caller mention that it seemed like Tami had a drinking problem, Tami said the problem was that she wasn't in her lane. She told her, "I'm a beer drinker." She added that all the fancy mixed cocktails didn't sit well with her.
She also spoke about her upcoming book, tentatively titled The B.I.T.C.H. Chronicles. For Tami, it means Believing In Total And Complete Honesty. She says the "B" word used to send her over the edge so she wrote this book to turn the word into something a bit more positive. Oh...
​ ​
​ ​ ​