MUSIC MANIA: Lil' Wayne Covers The July/August 2011 Issue Of "XXL" + Drake's "Trust Issues" + Dawn Richard's "Novacane (Remix)"
​
Jun 22 | by _YBF
​ ​ ​ ​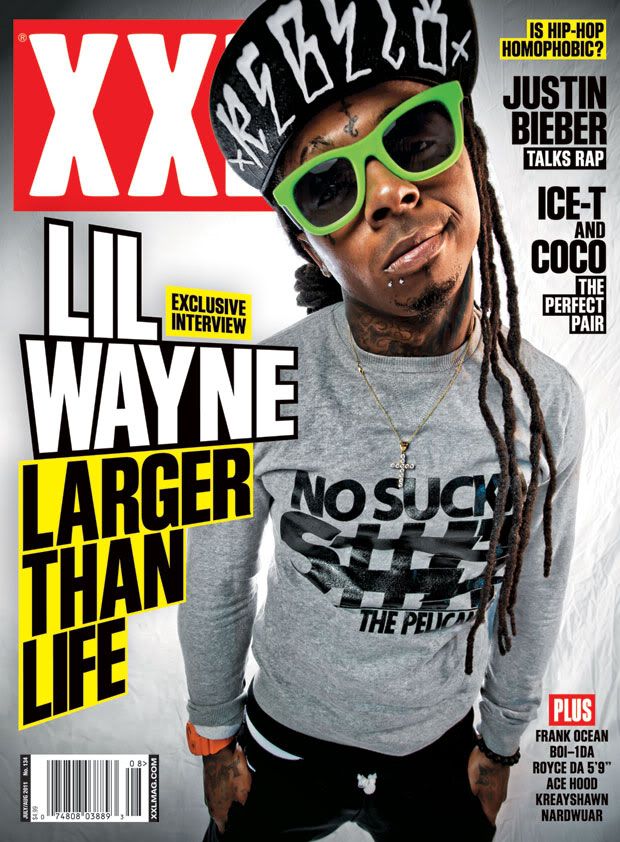 Lil' Wayne covers the July/August 2011 of XXL. And Drake returns and shows even more of his sensitive side (yes...there is still some left) on his latest track called "Trust Issues." Plus Bad Boy's Dawn Richards returns with the female perspective/answer to Frank Ocean's "Novacane." Check them out inside.....
In the latest issue of XXL, Lil' Wayne--who's rocking a long sleeved "No Sucka Sh#t" shirt by Atlanta-based company Fli Pelican--talks to Shaheem Reid about his music and his life. He tells him,
"What is good about me is that I'm an interesting muthafucka. I'm Dwayne Michael Carter period! Whether I'm a rapper or not, I'm interesting. And that's what my album's gonna be about: me and how interesting I am."
The magazine hits the stands on July 12.
In other Young Money news....
On what may be a track off his forthcoming Take Care disc, Drake opens up about his "Trust Issues." He released the song on his blog earlier saying, "Did my own little thing using some other thing I did. You know."
And by that, Drake is referring to the hook he used on DJ Khaled's latest single, "I'm On One." It pops up on this song too.
Listen to Drake's "Trust Issues" here:
And Dawn of Danity Kane/Dirty Money is still dropping new music for her fans. With her co-writing partner Intyce, Dawn Richards puts the female spin on Frank Ocean's song "Novacane." But does she do a good job with it?
Listen to Dawn Richard's Remix of "Novacane" here:
​ ​
​ ​ ​