Garcelle Beauvais Dishes On Fake Friendships In Hollywood+Kandi & Nene Talk "Housewives" Mess
​
Jul 05 | by Natasha
​ ​ ​ ​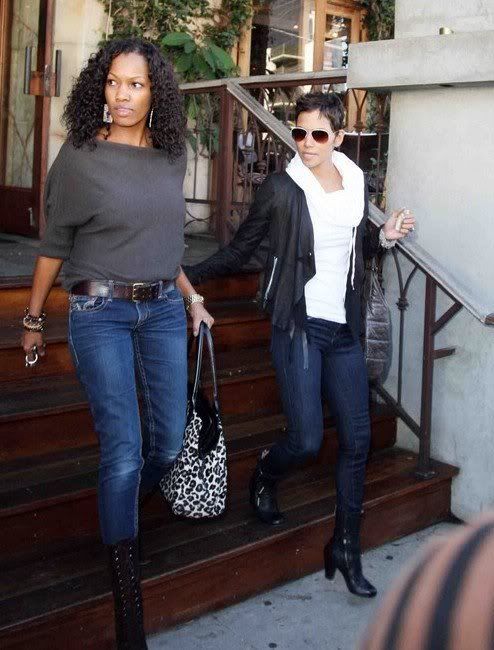 During a recent interview with Essence.com, Garcelle Beauvais opened up about how fake friendships in Hollywood can be. But hers with Halle Berry is the real deal. Get the deets inside and find out what Nene and Kandi had to say about season 4 of "RHOA."
"Only one person gets the [acting] job and some people feel like they can't be your friend because that somehow takes away from their chances."
That's how "Franklin & Bash" star Garcelle Beauvais describes friendships in Hollywood...shady.
So with friendships with other actresses being rare, Garcelle says she really values her relationship with fellow hot actress Halle Berry. The two ladiesare good gal pals, have joint playdates with their kiddies, and text each other regularly.
"I think what [Halle] loves about me is I'm not 'Hollywood. We go to breakfast with our kids and it's not about anything else. I was going to do a local show in L.A. and she texted me and was like, 'I didn't know you had a new show?' because when we're together, we're real friends, we're moms and it's not about business."
And when asked about what she loves best about Halle she said,
"What I love about her is that she loves being a mom and so do I. We just want to be regular, because this business is crazy."
With so many celebrity feuds making the news, it's good to know two such fab chicks are genuine friends. Speaking of Garcelle, check out a FAB photogallery of her hottest pre- and post-divorce looks HERE from Essence.com.

And speaking of shady friendships, coming up on this season of "RHOA":
Nene Leakes and Kandi Burruss stopped by Atlanta's V103 radio station to discuss the fourth season of "RHOA."
Kandi revealed that she no longer works with Kim Zolciak on her musical career and still insists Kim NEVER paid her a producer's fee for "Tardy For The Party." SMH.....
Meanwhile, Nene revealed that you'll get to see her divorce from Gregg played out on the screen this year. Mind you, he was right by her side at Essence Fest in New Orleans this weekend. But whatever makes for good tv right Nene? Also, she shared that she is good friends with new castmate Marlo Hampton. The two have been hanging out often (NeNe allegedly used to date Marlo's reumored fiance' Charles Grant...so this is interesting) and tweeting about their gal dates. Sounds like she's got some beef with another Housewife though. She recently tweeted:
Thanks @iheartmarlo 4 being woman enough 2 talk 2 me, Instead of believing that thirsty wanna b."
So I wonder whom she will fight with this year since Nene also added that she no longer speaks to Kim? Time will tell....
​ ​
​ ​ ​