"Watch The Throne" Tracklist Revealed + DMX's Prison Release Delayed After He's Caught With DRUGS!
​
Jul 13 | by _YBF
​ ​ ​ ​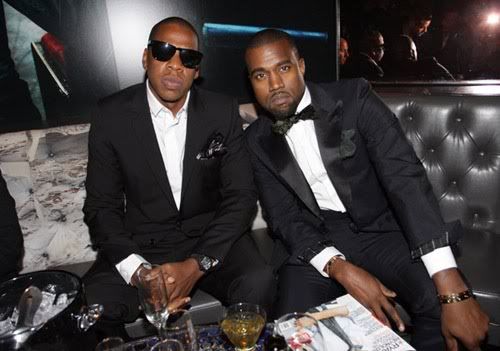 Yesterday, Kanye West and Jay-Z released the tracklisting for their joint album Watch the Throne, due to be released on August 2nd. See the tracks inside and find out what trouble DMX has been getting into while locked up in Arizona....
We told you previously that Jay-Z hosted a party to preview his album for a small group, and now we can tell you what will be on the album. And the dup has tapped Jay's wife Beyonce, newcomer Frank Ocean, and good friend Mr. Hudson.
The tracks appearing on Watch The Throne (Deluxe edition), according to Hov's website, are:
1. No Church in The Wild (Feat. Frank Ocean)
2. Lift Off (Feat. Beyoncé)
3. Niggas in Paris
4. Otis (Feat. Otis Redding)
5. Gotta Have It
6. New Day
7. Prime Time
8. Who Gon Stop Me
9. Murder to Excellence
10. Welcome to The Jungle
11. Sweet Baby Jesus (Feat. Frank Ocean)
12. Love You So (Feat. Mr Hudson)
Bonus
es
13. Illest Motherfu--er Alive
14. H*A*M
15. That's My Bi--h
16. The Joy (Feat. Curtis Mayfield)
The album has been a long time coming and Jay-Z admitted to MTV News that the LP is actually on its third iteration.
He said he and Kanye were looking to make a grandiose project with elaborate songs, but they felt that doing so would take away from its enjoyment.
"It's just so big and so much, you don't want that sh-- screaming in your house," Jay-Z said, referring to their early single, "H.A.M." "If we don't make records that we like and represent the culture, we would be over."
Are you exited about the collabo finally coming out?
In other news...
Fans of DMX shouldn't hold their breathe while waiting on his release from prison.
TMZ reports that the rapper has been partaking in foolywangery while locked up in Arizona, racking up a litany of new charges including drug possession, disorderly conduct and refusing to take a drug test.
Although he was supposed to be released today, his new infractions will add another week to his time. WOMP.
​ ​
​ ​ ​