Queen Latifah Set For "Dancing With The Stars?"
​
Aug 12 | by Natasha
​ ​ ​ ​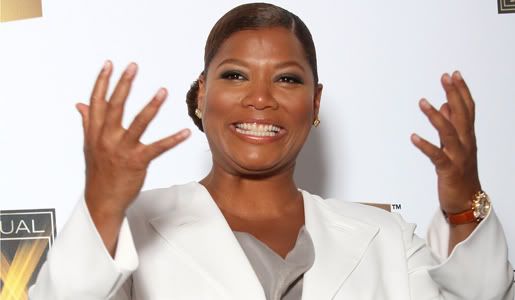 Is VH1's "Single Ladies" creator about to lend her hip-hop skills to "Dancing With The Stars?" Sources are saying it's almost a done deal for Queen Latifah.
Deets inside...
Honestly never thought I'd see the day when Queen Latifah was fox trotting across the "Dancing With The Stars" ballroom floor. But according to TMZ, she's about to sign a contract to do just that for the next season of the show.
"DWTS" is usually for the D-listers trying their damndest to move up a few notches. Or for folks trying to get their swag back. But I'm not sure Queen falls in either of these two categories. Despite the show's producers saying earlier this year they want to amp up the quality of the cast of celebs for next season. Will it be a good look for her? Hmmm....
By the way, her competition, if she actually signs on the dotted line, will be Rob Kardashian and possibly Snooki and Tiffani Amber Thiessen. We feelin' this?
UPDATE: Queen Latifah recently posted to her Twitter,
"No truth to the rumors of me doing Dancing With The Stars. Love the show though so I'll be watching just like you!"
Fans of Queen Latifah will just have to turn into the second season of "Single Ladies" to see her.
​ ​
​ ​ ​