Shaquille O'Neal Nasty Sex Emails To His Mistress, Tries To Hook Up With Sessilee Lopez & Celeb Chicks While Married To Shaunie
​
Aug 25 | by Natasha
​ ​ ​ ​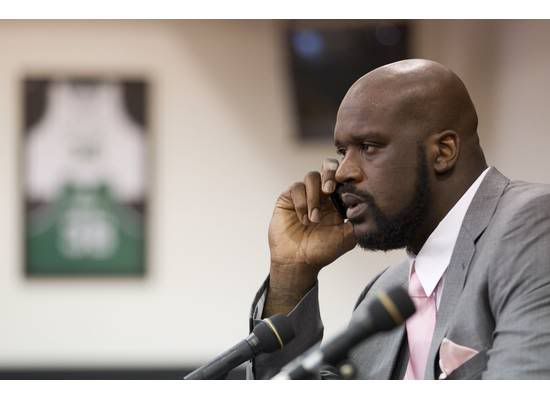 It's no secret Shaquille O'Neal did some major ho'ing while he was married to his nw ex-wife Shaunie O'Neal. But the email and text message tea just keeps on spilling.
Newly leaked email messages reveal that Shaq used a female journalist as a gopher to get celeb chicks to date--while he was married. And some new nasty text messages between him and mistress Dominica Wrestling just got leaked too. Deets inside...
Just when we thought all the B.S. with the umpteen mistresses of Shaq were done--more texts leaked. Shaq revealed his 12 year old boy Myspace poetry in texts he sent to Swedish "model" Dominica Wrestling--a chick he was getting it in with while he was still married to Shaunie.
Miami News reveals these eye-brow raising texts asking her where he could "cum":
Westling: I feel bad we lost contact. Hope you are well. I live in LA now so hit me up if you ever come out there
-dominica
Shaq: O my god were r u can i have u bak i miss u to whts yur number pls baby i want u bak do u love me
Dominica: Yes I wanna see you, you know I can never forget about you. My number is [redacted by us]
[Twenty-three days later, Dominica sends Shaq an email with only the subject line "Muuaaahhh" and a photo that, judging by his reaction, didn't depict a tray of freshly baked cookies.]
Shaq: Where can I cum at when I c u
Dominica: All over me, where do you wanna cum?
Shaq: In u foreva
Dominica: I miss that
Was that supposed to turn a bish on? Damn. No effort Shaq. At all.
Oh, but there's more. Newsweek writer and author Allison Samuels allegedly tried to hook Shaq up with some of her celeb friends--while he was still married a well. Ms. Samuels offered up contact info for model Sesilee Lopez, Rihanna, Lauren London (who Shaq outs D-Wade about when he was still married to Siohvaughn and dating Gabby Union by saying HE'S hooking up with her...HMMMM...), and others. Peep the leaked emails from 2008, after Allison met Shaq while covering a Lakers game:
Samuels: Hi. Sesslielopez@gmail.com [FYI, the email address bounces back]. Or I can give her your info? She's not in the country until Wed so maybe then is better because she hasn't answered me about something else I asked her about. Also she asked about your personal life and I told her_whatever it is_-I'm sure you had it under control. Still waiting on Robinne's response.

Shaq: Sesslie aintdat fine whts robins last name

Samuels: You are so wrong! Robinne Lee_she's on Tyler Perry's show sometimes. Do you know Lauren London_I don't_but I know James Lassiter knows how to reach her. You ever dealt with her_is she cool? Sharon Leal??

Shaq: Loren is d wade's girl im not wrong sesslie aint my type u r

Samuels: What about Gabrielle and Dwyane?

Shaq: He gottem all I want u or rihanna

Samuels: Rihanna is too young_19-- she is just legal and you know I'm very chatty and you said you didn't like that!!!!!

Shaq: Yeah but I told u had a crush on me and u wouldnt chat about us i kn o u

Samuels: No_I'm chatty in a relationship_not to others. You just decided I had a crush on you huh?? When did you decide that?
Check out the actual emails here. Oh Hoopz. You better than me girl....
Keep it classy kids.
​ ​
​ ​ ​