Video Chick Dollicia Bryan's Newest Prey: Rob Kardashian?
Sep 06 | by Natasha
This chick is determined to turn her video "model" status into wifey status. Any guy that's hot at the moment--and hot is very relative here--she makes her way to their sheets, er, arm. First Jamie Foxx, then Hill Harper, now Rob Kardashian.
Deets inside on their "relationship" inside...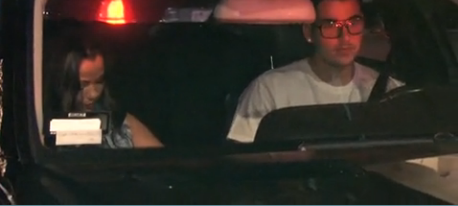 We got a tip yesterday that "DWTS" contestant--and professional celeb-friender and partier--Rob Kardashian, has got himself yet another video chick to keep him company.
Rob & Jamie Foxx's ex, Dollicia Bryan, were spotted leaving the Roosevelt Hotel in L.A. together the other night. PEEP THE VIDEO Supposedly, according to his friends, Rob "is really into Dollicia" and when he is not practicing for "Dancing With The Stars" he can always be found with her.
Not surprising at all. Isn't this the same dude that tapped video chick Rosa Acosta raw last year and even possibly knocked her up?
Meanwhile, Dollicia exchanged some inside jokes with the sole male Kardashian (well, besides the Kardashian-Disick baby Mason):
@RobKardashian @DolliciaB I'm disturbed with some of your posts now. LOL..< That's what u get for snooping haha

Why did I stick my hand in my purse to find melted Reese's Pieces @RobKardashian!?!?
And posted a pic of her new black hair (seen in the video above).
That Kardashian family...always keeping their standards high....