*UPDATED* JUST MARRIED: Chris Paul & Jada Crawley!
​
Sep 10 | by Natasha
​ ​ ​ ​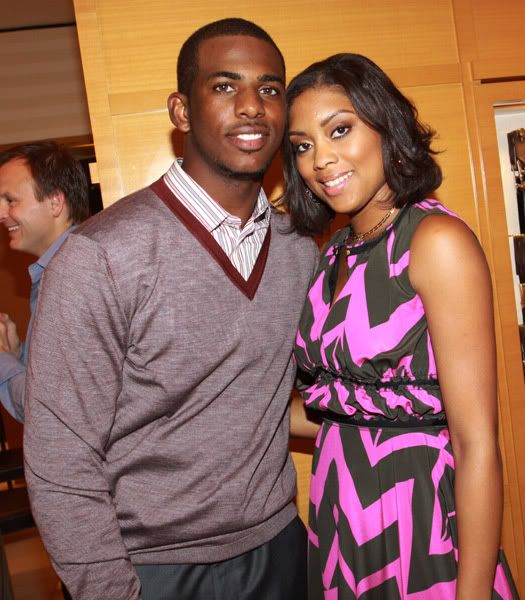 It's a star-studded wedding affair for NBA baller Chris Paul & Jada Crawley! The twosome, who are parents to 2-year-old Chris, Jr., got hitched today once the clock struck 6pm in Charlotte, North Carolina.
Check out what their celeb friends had to say about the uber fabulous David Tutera created nuptials inside....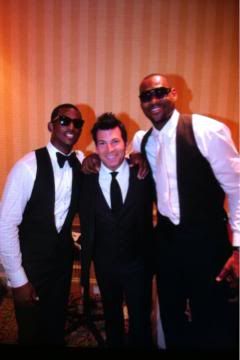 Chris' best homies, Carmelo Anthony, Dwyane Wade & LeBron James, (Chris is pictured above at his wedding with planner David Tutera and LeBron) were on hand to watch 26-year-old Chris take that next big step--wedded bliss. The wedding took place in North Carolina--where Chris & Jada met in 2003 while he attended Wake Forest University. Chris was also born and raised in Winston-Salem, NC.
Melo flew over with wife LaLa after hitting Fashion Week events in NYC, and Bron's girlfriend (and good friend to the couple) Savannah Brinson, was there of course.
D-Wade's girlfriend Gabby Union posted a pic of her and LaLa at tonight's wedding and said about her near fashion crisis: Thank GOD 4 @SavannahRB!! Just realized my dress is a tad see thru...ma girl came thru w/ an avoid a scandal slip!! #disasteraverted
Savannah tweeted: The time is ticking.... So ready and excited to celebrate the union I am apart of today!!!!! Congratulations Mr. And Mrs. Chris E. Paul!!!!
And, of course, it's all fun and games at rehearsal when both LeBron & Savannah are in your wedding. 'Bron joked late last night: Staring at @SavannahRB from a far at the rehearsal and she has no idea! Kinda funny. #hadtobeheremoment

Dwyane chimed in about Chris talking about his future wedding 3 years ago and it actually coming true: Were on our way to @CP3 wedding..I can remember in 08 when we talked about this day being a possibility- on the back of the bus in China
And the groom himself wrote this simple but obviously special tweet this morning: 9.10.11
Former "Basketball Wife" Meeka Claxton jetted from NYC's Fashion Week festivities down to NC for the wedding. She tweeted: Here comes the Bride! I can hear it playing already *hugs* Sooooo happy for u guys @CP3 and Jada! Love u both Xoxo

Kevin Hart traveled to NC for the couples' nuptials. And Robin Thicke was there as well and said: Leaving Charlotte! Congrats Chris and Jada! Kevin Hart is f'n comedy! I'm a boss!!! Hahaha
Monica & Shannon Brown were in Houston hostng a party, but sent their well wishes saying: Sending our sincerest love & blessings 2 @cp3 & Mrs Paul. U guys have such a beautiful family. Make it last 4ever Much Love, The Browns
And plenty of folks are telling us the groom, Carmelo, & LeBron all spent Chris' last night as a single man at strip club Onyx in Charlotte. Boys will be boys.
CONGRATS TO MR. & MRS. PAUL!
​ ​
​ ​ ​