INSIDE FASHION WEEK: YBF Designer Edwing D'Angelo Talks Tyra Banks, His Eclectic Style And Pushing The Envelope
​
Sep 16 | by _YBF
​ ​ ​ ​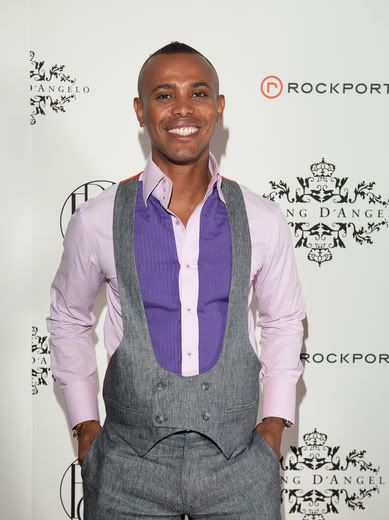 In part three (the final part) of our in-depth coverage of NYC's fashion week and up-and-coming designers, TheYBF.com spoke exclusively with designer Edwing D'Angelo, a 10-year vet of the fashion industry, who's known for his eclectic and boundary pushing style. Tyra Banks is a huge supporter and he is someone you should keep your eyes on.
Come inside and meet Edwing D'Angelo.
Edwing D'Angelo, Edwing D'Angelo
Edwing D'Angelo is a name bantered around chic NY fashion circles of fabulous go-getters and attention seekers. He may have been in the gane a long time, but he's still waiting on his chance to become a household name. The Colombian born designer, who describes his label as "Elegant, Eclectic and Chic," counts Tyra Banks as one of his biggest cheerleaders.
The Harlem-based designer says his Edwing D'Angelo collection is not designed for the timid. "It's for those who want to be the center of attention." He adds that his line pushes boundaries and is perfectly made for the consumer who strives for excellence and likes to stand out. Here's our chat:
On his 2012 collection

As he celebrates 10-years in the industry, Edwing says a large part of his collection was inspired by Tyra Banks' love of his menswear and its fitted lines and structure. He says the supermodel, is a true gem, who doesn't use her celebrity to take advantage of young designers. She's bought and PAID for many items from his line, and she wore one of his looks at the 2011 CW Upfronts.

He adds that his admiration of First Lady Michelle Obama also drove the collection, aptly named "A New Perspective." It focuses on ready-to-wear separates that are elegant and daring.

On his experience at Fashion Week

As he shoots a documentary focusing on his 10-year anniversary, Edwing jokes that his first showing at fashion week was in the available office space of a chiropractor's office on 28th street. But since then, he's shown at a wide range of chic venues, including the Waldorf Astoria Hotel.

He credits his showings at fashion week as good teaching tools for how to structure a design company. He says he learned that there is more to running you own label than just putting out "a pretty dress."

On advice to upcoming designers

Edwing says that success is 10% creativity and 90% business. He says persons interested in the business show know how to run a company. "You won't succeed unless you know how to run a business. You have to make a pretty dress but also understand how to make the dress reach millions of consumers."

On what inspires him

As a Latin designer who lives in Harlem, he says the different flavors of culture, food, and music offer him a lot on inspiration.

On what's NEXT

Edwing revealed exclusively to TheYBF.com that he is opening a flagship boutique in Atlanta, GA very soon. He also shared that he is working on a line of accessories and had other expansions in the works.
Watch a special presentation of his Spring 2012 showing this week, "A New Perspective," below:
And see more of Edwing D'Angelo and his 2012 collection in the photo gallery.....
​ ​
​ ​ ​