EXCLUSIVE INTERVIEW: Tamera Mowry-Housley Dishes On Advice For Brides, Interracial Dating Haters, & Why She Chose Celibacy
​
Oct 03 | by Natasha
​ ​ ​ ​
Because we LOVE a good wedding around these parts...
We've loved her since her "Sister, Sister" days. And we got to see Mrs. Tamera Mowry-Housley's wedding with hubby Adam play out in all its tearful glory on her & twin sis Tia's reality show, "Tia & Tamera." We found out more on their part-drama, part-sex deprived, ALL romantic nuptials that took place this past spring. AND she's dishing up advice specifically for YBF reader Brides-To-Be..
By the way, this chick has the most contagious (and plentiful) laugh in the business.....
Tamera, let's get right to it. You and [your husband] Adam got slammed with hateful comments and criticism about your interracial relationship. Especially as soon as your engagement photos hit the net. Why did you choose to release the photos? How did you all deal with the negativity?

It's something I wanted to share with Adam, our fam and friends, and years down the line with our kids. There's something, I think, special about that. I wanted them to see something more than just us in our wedding attire. I didn't feel like we shouldn't have put them out--I was just shocked that some people still feel that way. It's 2011! They did a poll recently and 83% of Americans are OK with interracial relationships. I never expected that kind of negative response to us. That's why I was OK with our wedding photographer (Jose Villa) putting those pics on his website. He was ok with them, and I was ok with them.
Did all the hate overshadow your happiness about the photos?
It didn't ruin anything for me. If anything, it just shed light on the fact people feel that way...and that's their opinion. The fact of the matter is--if you have 99.9% who see it with positivity, and you're gonna have that .1% who don't.
My husband had the best response to that on the show. He said 'That's not our issue. That's their issue. So they can deal with that.' From now on, I'm just focusing on the people who love us and suport us. Which are MANY people. And that's also the case with life--there will always be naysayers.
You mentioned on your show that you and Adam decided not to shack up. Does that mean you went the Sherri Shepherd route and decided not to sex it up either?
I'll be very very honest. (Laughs embarrassingly) We decided, it was both of our decision, not to live together for religious reasons. I'm being very honest. We actually didn't wait before we got married to be intimate...but we did wait 3 years. (The two have been together for 6 years). I wanted to do what felt right for me. I became re-virginized. It's something that just felt right for me. It was just a personal choice. And even after being intimate, we decided as a couple to be celibate until the wedding.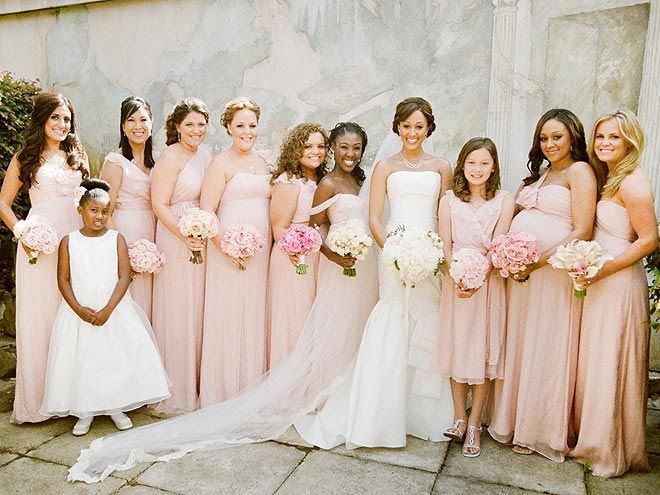 We need the details on your wedding attire. That gorgeous dress, your shoes, everything.
My dress was Carolina Herrera. I wanted Carolina Herrera because everyone seemed to be going the Vera Wang route. And Carolina Herrera exemplifies elegance...and I felt like a woman. It was sexy, but not too sexy. It was sophisticated, elegant, and it was CLASSIC. You'll look at that picture and it'll look great forever!
My shoes...I wanted something blue because at Tia's wedding [to actor Cory Hardrict], it was really hard to find something blue. So I really wanted to make sure I had it. And what's so funny about that, I ended up having SO many things something blue. My good friend Candace Cameron ("Full House") got me THE cutest little dainty blue Cosabella panties that said "Mrs. Housley"! And Mindy Weiss, my wedding planner, put "I Do" in blue rhinestones underneath my blue shoes!
So your something old, something borrowed, etc. were all wrapped up in what you were wearing that day? What were the rest of the things--so our brides can get ideas.
My Something New were these cross earrings Tia got me. And my Something Borrowed...Oh my Gosh! I didn't have anything borrowed! Oh my God. [Mini-freak out session and laughter ensues]
[More laughs] Wait...we're just going to act like you did...and skip over it. You're going to lose your mind if you keep thinking about it!

[Laughs] Oh my gosh I can't believe this! WAIT WAIT...Something Borrowed were my other earrings!
How would a bride--like the girls on Bridezillas--deal with the drama and hate from within their own family or circle of friends when it comes to the wedding. You seemed to be very stressed during the whole process.
Well that's a misconception. My family LOVES Adam. My mom...just thinks he's the best thing ever. My brother Taj and Adam are so close. We even did this test (LAUGHS HARD). I used to be jealous because when the three of us are together, I don't exist. I'm like "Helllllo I'm here. I'm your wife!" They connect on a different level. I even did this test to see who Taj would text first. I said Adam...let's text Taj at the same time and see who he'll text back first--he texted Adam first.
My brother Tavior--they hang out by themselves and my husband watches his scrimmage games at UC Davis.
I never had to deal with hate that way. My family and my extended family--they love this man. And I'll tell you this: What's so great is that my aunts and cousins when they first met him, said this is a man who does not see color. He's comfortable around EVERYBODY. Adam speaks fluent Spanish, he loves culture and knows what's going on in the world. My family welcomed him with open arms. The stresses that I had were the stresses I put on myself. If I could tell brides anything--it's DON'T STRESS about the little things! People tried to tell me that, but....
What was you all's FIRST DANCE song at the reception?

It was Journey's "Faithfully." My husband and I always travel up to Northern California--he had a place there--and we always listened to that song. It's about a man who travels a lot. But always loves his significant other and comes right back.
Oh, and Adam is a HUGE LL Cool J fan. He was set on having LL in the wedding some way. So he wanted "Going Back To Cali" played, it's his favorite song. So my brother choreographed a dance that we all did at the wedding. We had our slow dance, then we broke out into LL Cool J. It was hilarious. Oh my gosh.
Now, what do you say to a bride who has a tight budget? If 10K-20K is her budget. And she can't do $1 more.
Well if it's an outside wedding--I say budget for a tent. I was really naive. Whether there would be rain in Napa in May wasn't even a question for me because I've been there several times in May and there was never even a cloud in sight. (The couple's wedding took place May 15th, 2011 in Yountville, CA.) But leading up to my wedding, there was rain, hail, it was 40 degrees, I might as well had gotten married in January!
But if you only have a set amount like $20K for your wedding, and not a $1 more, think about all the things that COULD happen. And plan for it. Had I known rain could have happened, I would have budgeted for a tent and not done some other things. Instead I had to tack on several thousand more last minute for it.
So did Style channel pay for your wedding?
Nope--I paid for it all myself.
That's the way to do it so you get and do everything YOU want. Now, you were extremely upset on the show about going over your budget. But people would say "You're Tamera Mowry--you have a few more G's to kick in." Was it just the stress of everything weighing on you?
Well the thing is...I'm actually very frugal. My business manager always says he wishes he had clients like me. Just because you have some money doesn't mean you have to spend it. My mom and dad raised me up to be that way.
I'm the type of person where--like me and Adam were living in my condo, but we JUST bought a house. I could have had my own house before but...
So what do you feel about the people like Kim Kardashian and Star Jones who had a publicity circus around their weddings.
Well, I think because I just chose to keep certain moments of the wedding private, it's just different. The actual wedding was not filmed for the show. I wanted it private. Before and after the ceremony was shown though. My whole life, almost, I've been in a fishbowl. So this was something intimate and I wanted to keep it that way. But I still wanted to share some aspects of it with my fans. I didn't want to bring you guys all this way just to not show you anything.
And Adam's family, of course, paid for the traditional stuff they're supposed to pay for-- like the rehearsal dinner and all of that. Adam did help with the music. He wanted a band AND a DJ--so he got that himself. [Laughs] We had my favorite Hip Hop dee-jay DJ Big Von from San Francisco. It was phenomenal.
Give us a peek into what a newly married woman feels like. I always wanted to know a bride's thoughts the very next day. Happiness, REGRET even (laughs). What was the very first thing you did the next morning as Mrs. Housley? Brush your teeth extra happy....cook him breakfast....what?
Well, we were actually in our hotel room still. We went straight to our Honeymoon the next morning (in Greece). Honestly, I woke up the most peaceful I have ever been in my entire life. And......(cracks up laughing) Adam and I had waited for a while to...you know....so....[trails off with laughter].
Ya'll had some catching up to do!
We did! It was like an "A-ha" moment. It was amazing. [Laughs] I was the most peaceful I've ever been. Just so happy to be a wife.
What are the three IMPERATIVE things every bride must have WITH her at the wedding on her day?
A lot of women forget this--make sure you have the right undergarments. Don't be afraid to splurge and go to a lingerie specialist. Get the right bodice, Spanx--you CANNOT leave without your Spanx--it just keeps it smooth and SUCKED in and you look great. [Laughs]
Another thing is, carry your memories with you of why you two are getting married. And carry a clear mind--make sure you're totally present.
Then make sure you have your sidekick--your girlfriend, your maid of honor, your mom, whoever it is, RIGHT THERE by your side. Someone who you can look at in the eye and have their support. My mom wasn't on the reality show because she didn't want to be. She's so private. But my mom was with me every step of the way. So supportive.
What advice didn't you get that you figured out along the way?
That's a very good question.....Oh! That you were going to be SO emotional! No one prepared me for that. I watched Nick Lachey and Vanessa Manillo's wedding and she was emotional too.
And Tia wasn't emotional at her wedding. I mean...I'm a girly girl. And she's not really. So I wasn't even prepared for that. The advice I would give is--you're going to have to make a lot of decisions. But they don't have to be perfect!
And Tia kept trying to tell you that throughout the entire season!
I know! I know....a bride should just step away and try to listen to what others are trying to tell you. Take heed.
What's your advice on dealing with in-laws? You now that can be a doozy....

My in-laws are amazing! They spoil me so much. I have the best sister-in-law. She's my friend. We're both in interracial marriages. She was actually on the show, we just didn't get to introduce her. She was in my bridesmaid pictures (shown above)--she's Filipino. And I love that since she's in an interracial marriage as well, we can bond on that. She's just amazing. I love her.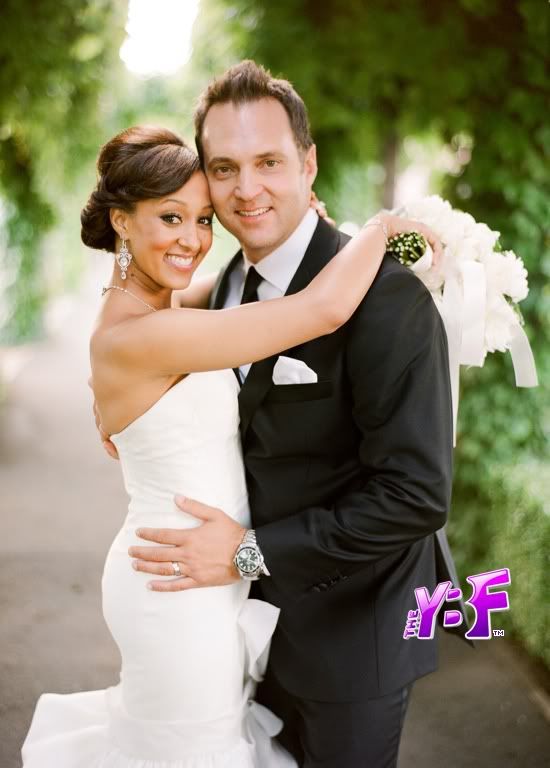 Our YBF readers who are currently planning their weddings sent in questions for you. Here's 3 of them for you to answer.

Oh I love this!
Ok. Shanelle Armstrong asked "I am getting married on May 12, 2012. Destination is Mexico. My question is - what is one thing that if you had to do all over at your wedding that you would have done differently or not at all."
You know what..I don't regret anything. And I think the lesson to be learned here is that things will not all go right. You will not have a perfect wedding. But, just because you don't have a perfect wedding, does not mean it won't be amazing. My wedding was amazing. I don't regret anything.
Jasmine Pettaway asked, "I'm getting married Fall 2012. What's the top 3 things brides should do to prepare for their big day?"
One, I would say def have a trial session for hair and makeup. So you're not worried about how that's going to look--you know it's going to look amazing. The other thing is, based on what I said before, whether it's stretching, meditating, reading, definitely clear your mind. So you can be present and remember everything. It goes by so fast! And the other thing--HAVE FUN! Remember, you're marrying the man of your dreams and just let go! Let everything go--your worries, your fears, let it go! And have fun.
Dee Dee asked, "My fiance and I want to have a nice, elegant wedding, but we can't afford anything huge. How can we have the wedding of our dreams without breaking our bank?"
Well the reader wants an actual wedding. But I have a friend who went to her favorite place--you can go anywhere--and brought a couple of close friends and family. And got married there. Then she had the reception in her backyard using the money she saved. You can have your fave restaurant cater, you can set everything up yourself, and you can make something look elegant for not a lot of money. It was one of our fave receptions ever.
You have to be creative. Adam and I had a photobooth set up and had costume pieces for our friends to put on. And my friend, for her wedding, went to Cost U Less and stitched her guests' names on the bottom of their glasses. So they could take them home as favors.
That's a wrap! I know you're going to talk about making a baby your next move on the finale tonight, but for the record, you all are definitely ready?
Yes! I love children. Seeing my sister with Cree--he is absolutely adorable. I do want to focus on our marriage right now just because I'm having so much fun. And I know once you have a baby, you die to yourself. [Laughs] That's it! It's all about the baby.
Check out all of Tamera & Adam's wedding photos HERE. And don't forget to tune-in to watch the season finale of Tia & Tamera TONIGHT 9/8c only on The Style Network! Here's some sneak peeks:
The time has arrived for Tia and Cory to head to the hospital to deliver the baby! Get a peek at the big day:
Tia starts furiously packing up the house to move her family to Atlanta--while Tamera does a little family planning of her own:
​ ​
​ ​ ​