Tika Sumpter COVERS The October 2011 Issue Of "VIBE VIXEN"
​
Oct 04 | by _YBF
​ ​ ​ ​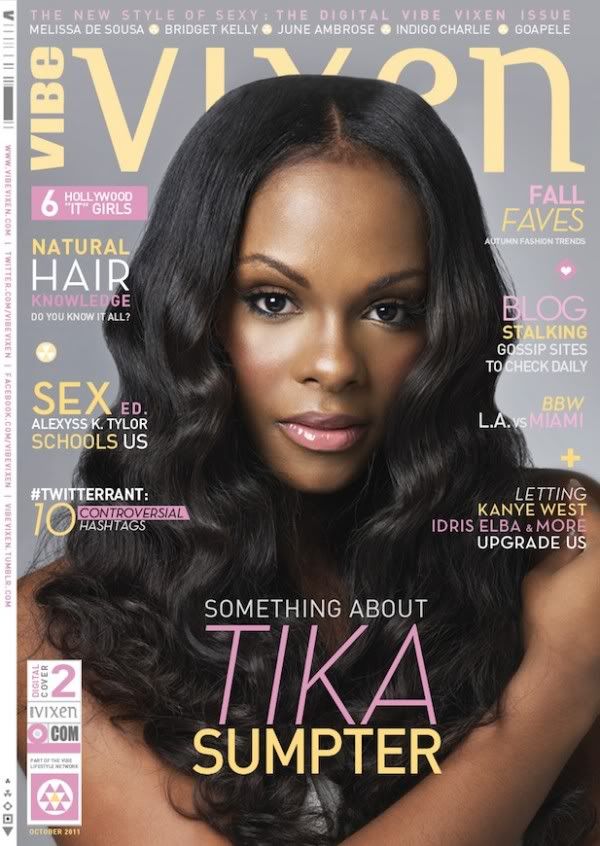 Fab chick Tika Sumpter covers the October 2011 issue of "VIBE VIXEN" where she dishes on sex, what we can expect on the new season of "The Game," and more. Read the highlights and peep the cover inside....
For the October 2011 issue of "Vibe Vixen," YBF chick Tika Sumpter opens up about her childhood experiences and some of her most talked about roles in Hollywood. On the cover, she rocks a headshot full of waves and girl-next-door style makeup. Pretty. Here are some of the highlights.....
TIKA ON GROWING UP IN A SINGLE-PARENT HOME AND SEXUALITY

VV: Growing up in a single-parent home, were there any struggles that molded you?
TIKA: Not growing up with a dad was really hard, but my mom was so on point. She was a lover and the authority that basically gave us whoopings. If you missed that bus to school, you were walking. I saw my mom struggle a lot which made me not want to do the things normal teenagers do. I was super prude in junior high and high school; the prudest person in the pack. I was so active in school that I wasn't even thinking about sex. Even my girlfriend and I, who are best friends since junior high, we were talking and she was like, 'Tika, nobody knows what they're doing in junior high, middle school or high school with sex, so why is everybody in a rush?'

VV: [Laughs] Would you say that you were shy or just conservative about those activities?
TIKA: I think I'm both. People might think I'm not shy, because when you see me, I talk, but I was kind of shy. I was shy, I was scared, I was like, 'Oh my God, I don't wanna get pregnant; I have too much to do in life right now.' It scared me a little bit.

TIKA ON THE RELATIONSHIP BETWEEN THE GAME'S JENNA RICE AND MALIK WRIGHT
VV: Well give us another scoop: What are your hopes for Jenna and Malik's relationship during the next season of The Game?
TIKA: I don't know anything yet. They haven't told me. I would hope that they explore the world of being in a functioning, viable relationship. I think there's a lot to write about, especially with two addicts and two people in the entertainment business. I think that there would be a lot of hurdles, a lot of successes, but a lot of drama. I think she has insecurities, obviously, so it's going to be interesting with her being in this world of football now. From groupies to thinking he needs to pay for everything, just so many different aspects of that life. It'll be interesting seeing how his mother gets along with Jenna and how she feels about that whole situation. Also being in a circle of women who are married and she's not married. I hope they explore that world. I think people like them together, and I'm so grateful girls and guys like Jenna Rice. I think it could be a fun situation this season.
Read more of Tika's Q-n-A over At Vibe Vixen.
​ ​
​ ​ ​