ENGAGED! The Game Proposes To Baby Moms...With Cameras In Tow
Oct 13 | by Natasha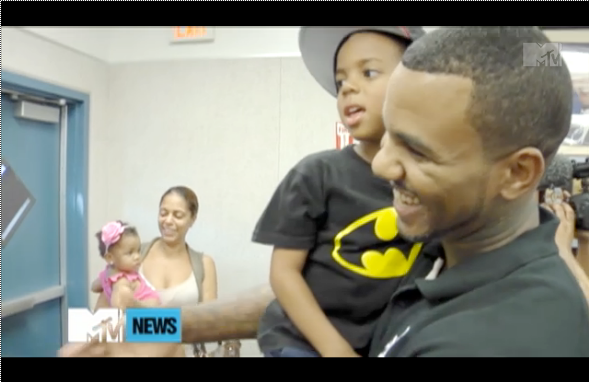 The Game decided to throw in his "player card" and become a family man. He brought cameras and the kiddies along so the world could see him propose to his baby moms and girlfriend of 7 years, Tiffany Cambridge.
Peep it inside...
Well look at Mr. Jayceon. Gettin' all official. He dropped to one knee at girlfriend Tiffany's job--Frank D. Parent Elementary School in Inglewood, CA--and planned all the hoopla that morning.
Game said, "As a man, this is that day where you throw your player card away and step up and be a family man. She deserves it. It's been a long run, it's been 7 years. We've been off, we've been on, we've been arguing, fought, good times and bad. And at the end of the day, as a man, this is something that I owed to her and I owe to my family. It's time."
Tiffany said she's like a deer in headlights and thought she was getting set-up to get fired. Ha!
This is Game's second engagement, his first was to the now married Valeisha Butterfield. Congrats!
The Randomness:
1. Sparkle star Whitney Houston pulled a diva move over a seatbelt on her Delta flight to Detroit. And got checked by the flight attendants. Story