FOOLYWANG MATERIAL: Vybz Kartel RELEASES Line Of "Skin Brightening" Products For Men
​
Oct 13 | by _YBF
​ ​ ​ ​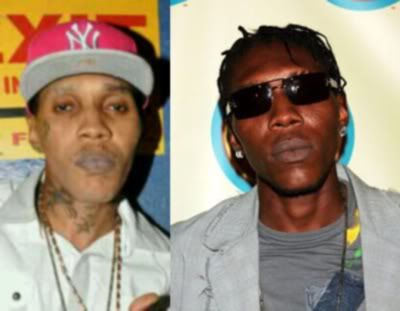 We told you earlier that reggae artist Vybz Kartel was proud of his scary skin bleaching. And now he has a line of prodcuts for the man to do the same thing.
Come inside to find out how you can give the man in your life light skin just like Vybz!
Although Vybz Kartel aka Adidja Palmer is currently in Jamaica facing murder, conspiracy to commit murder and illegal possession of firearm charges stemming from the shooting death of Barrington Burton, that hasn't stopped his hustle and flow in the skin bleaching department.
The artist is coming out with a line of men's skincare products and it will include items that can be used to lighten the skin.
But why would you do that?
Well....for some (ignorant) folks, having lighter skin implies wealth. And during an interview where Vybz defended his use of cake soap to lighten his skin (cake soap and Vybz's skin brightener are two different products) he said,
'When black women stop straightening their hair and wearing wigs and weaves, when white women stop getting lip and butt injections and implants … then I'll stop using the 'cake soap' and we'll all live naturally ever after.'

And p.s., although he is starting his launch in the Caribbean, Vybz has said, 'I wanna see them in Macy's and all other fine retailers worldwide.'
Hmm......does Vybz has a point? On the flip side, do people accuse the Jersey Shore kids of being uncomfortable with themselves for tanning? Just playing devil's advocate.
And for the record, no matter how many ways I look at this, skin bleaching is still ignorant. Yeah, I said it.
​ ​
​ ​ ​