CELEB COSTUME ROUND-UP: Bee-Yonce, Chris Brown & His Package, Teyana "White Bob" Taylor, & Tons More Get CRAZY For Halloween!
Nov 01 | by Natasha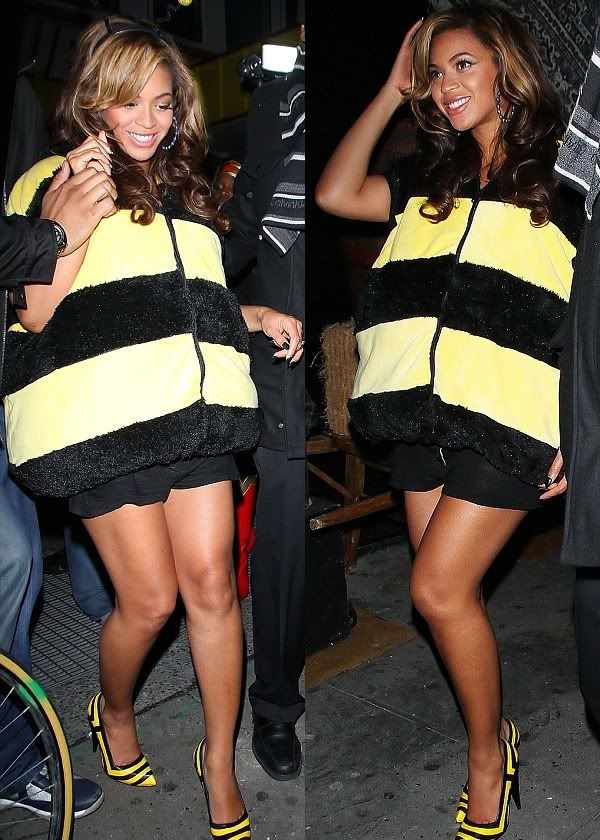 Now that Halloween is over, we've rounded up the hilarious, spooky, and sexy costumes your fave celebs were rocking last night. Pics inside...
A Busy Bee indeed. Beyonce rocked her black and yellow striped puffy bumblebee costume in NYC which concealed her baby bump. She was headed to Uncle Kanye's Halloween Party at The Darby Restaurant. And even threw on black and yellow striped pumps. Only Bey....
Speaking of Kanye, his costume last night was...interesting. Michael Jackson from "Thriller" maybe?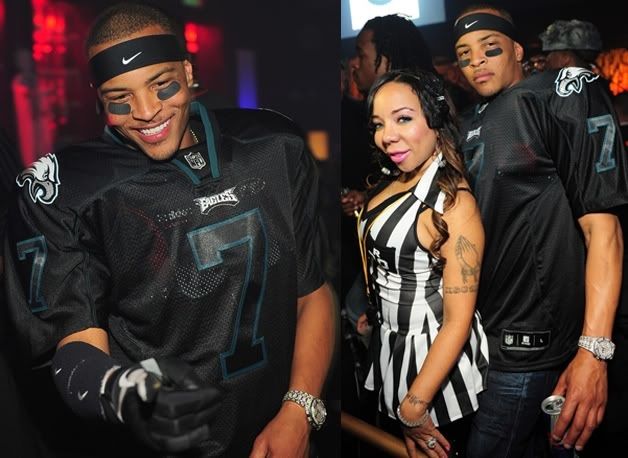 T.I. and Tiny went the couples' costume route as NFLer Mike Vick and a referee at a Halloween party at Gold Bar in ATL. Gotta love when a second chancer shows another second chancer some love.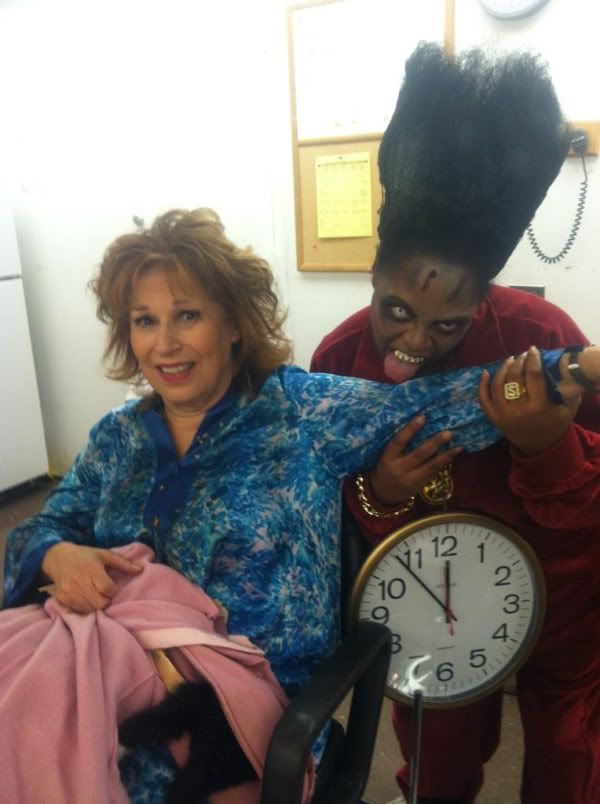 Sherri Shpeherd went as a zombie Flava Flav on "The View"'s Halloween special. All the co-hosts went as zombie versions of a celeb.
Can you recognize who this is without reading the caption at the bottom? We surely can It's Chris Brown in his first choice of Halloween costume--a latex green body suit that shows every bulge. *eyebrows raised*
He said he couldn't wear that first one, and went for the stoned youngin' instead.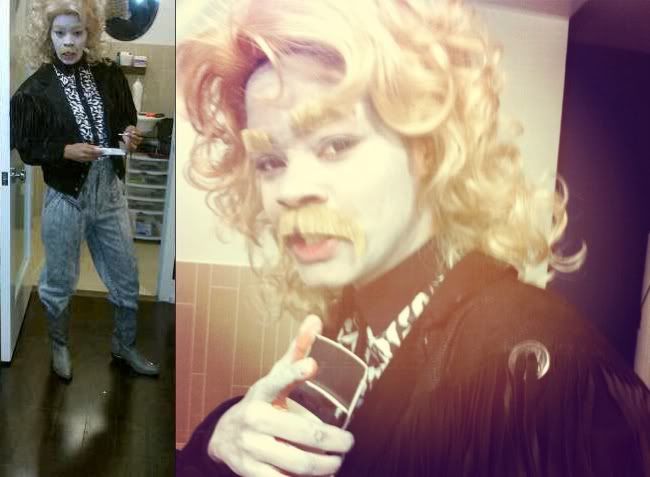 Teyana Taylor was hi-larious as Bob from Accounting from "Martin". Chick had the white face, wig, mustache, and outfit to a tee.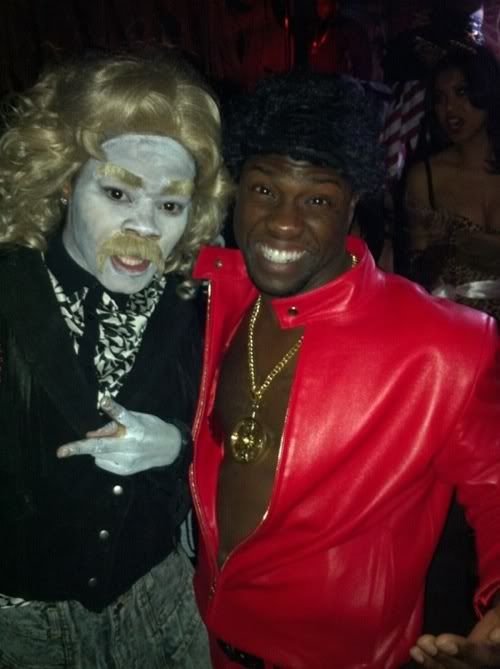 And she got robbed by her friends before catching up with a pimped out Kevin Hart (Eddie "Delirious" Murphy) at a party.
That damn Kevin. And this Prince....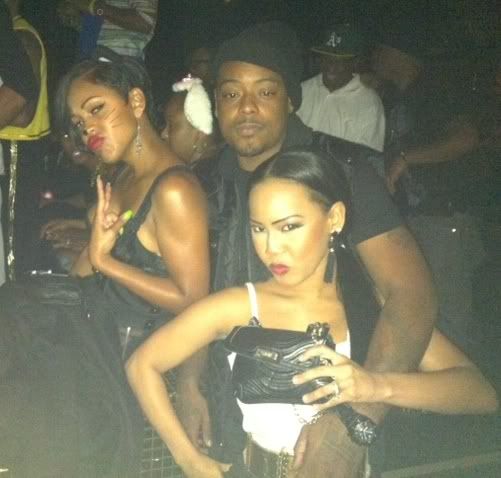 Megan Good wore her usual black leggings and black tank. And painted some whiskers on for a "cat costume."
Houston pop chick Hazel-E was a sexy Lil Red Riding Hood while partying in the H last night.
Nicole Richie was a relaxed witch as she took her pumpkin babies trick or treating.
Keesha Sharp (Gigi on "Are We There Yet?" & Monica from "Girlfriends") donned a sexy cop outfit for last night.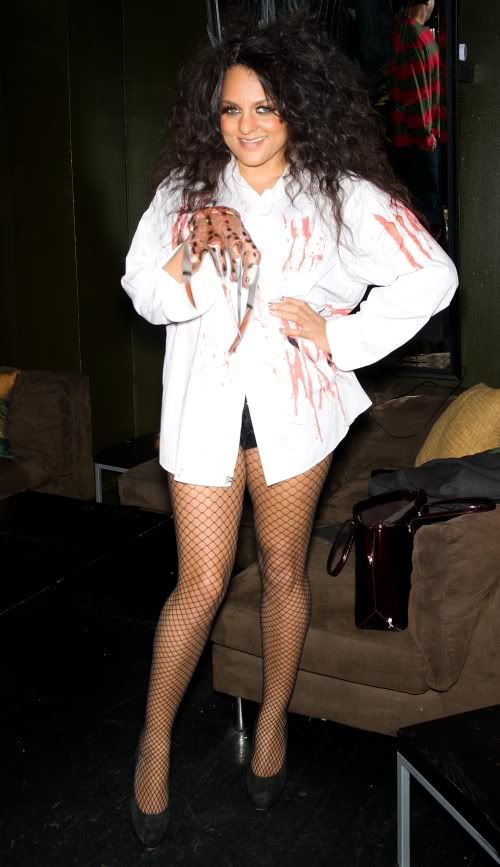 Scary Marsha Ambrosius hit up Kijafa Frink (Mike Vick's fiancee') and Julie Dorenbos' 'Dare to be There' Spook The Night Away Halloween Party at Walnut Room in Philly.
Wendy Williams did her whole show yesterday as a vintage PanAm stewardess.
Robin Roberts of "Good Morning America" rocked it as Nicki Minaj. The whole morning show team went as celebs who put on a show for their Summer Concert Series. Lara Spencer went as Lady Gaga. George Stephanopoulos came as her male alter ego Jo Calderone. And Bianna Golodryga did it up as Beyoncé.
Cutie Christina Milian donned her nurse uniform as she posed with "Macho Man Randy Savage." Is this her new boo?
Rocsi donned her best Black Swan costume while hosting "106 & Park" yesterday with superhero Terrence J.
Amar'e Stoudemire and his finacee' went as King Solomon and "his lioness".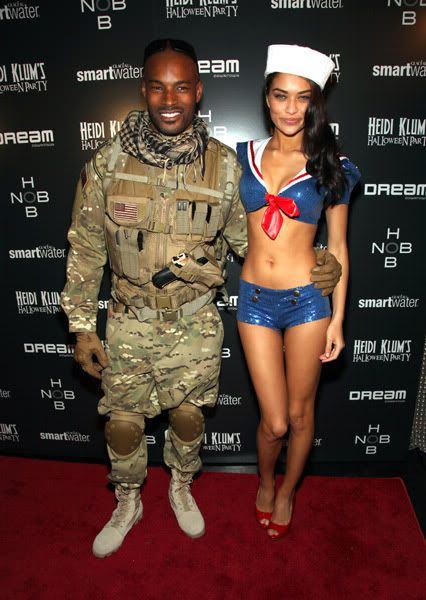 Tyson Beckford put on his camo to fight the war...and had a sailor girl by his side at Heidi Klum's party last night.
Seal and wife Heidi Klum went big...literally...at their NYC Halloween party at Dream Downtown. They were apes.
Russell Simmons and Andre Harrell went as Run DMC.
Chrissy Teigen did her pagent best and went as a Toddlers & Tiaras contestant.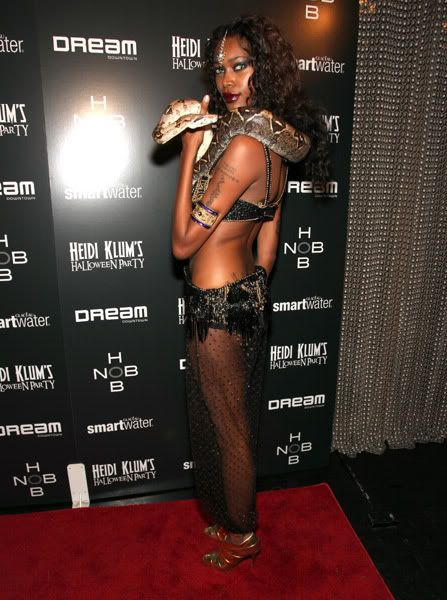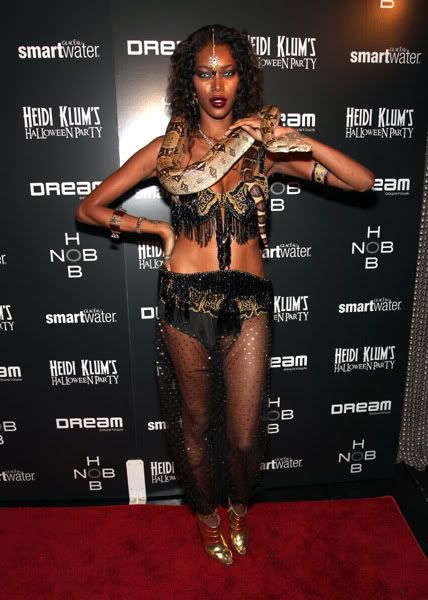 Jessica White was there as an Arabian snake charmer. Is that snake real?!
Amber Rose gave her best Slash impression.
Bloody prom queen Leona Lewis hit up Maroon 5's party at Hollywood Forever Cemetery last night. A Halloween party in a cemetery? WHoa.
Model Rosa Acosta flapped her way in as a mermaid to the VEVO party also held at the Hollywood Forever Cemetery.
Singer Lloyd hit the stage in a Jay Leno mask...on Jay's show last night.
Carmelo & LaLa's son Kiyan donned his Rapheal Teenage Mutant Ninja Turtle costume for the trick-or-treat festivities last night.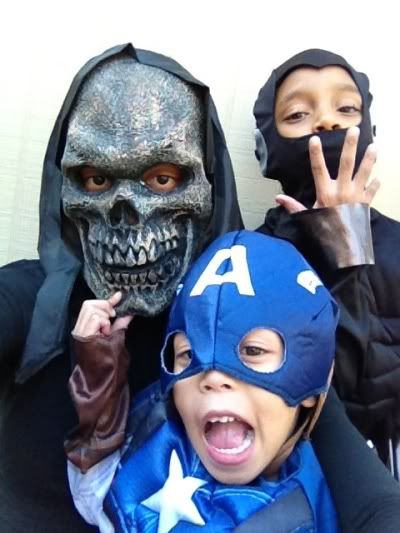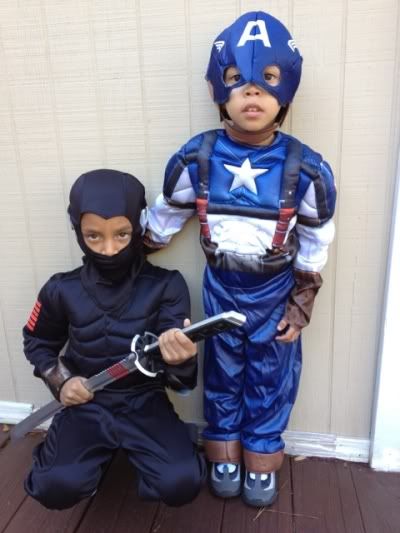 And nun Monica and her boys (Rocko & Romelo as Mario & Luigi) had some fun too. Cute!
In non-YBF news:
New mum-my Jessica Simpson officially announced the worst kept secret in Hollywood--she's pregnant. And she did so by holding her tummy in a mummy costume with her fiance and doggie. Cute.
YBF's Halloween Costume Contest is almost over. ENTER NOW!