Tamar Braxton Tells Folks Who Say She Married Vince For Money To HAVE A SEAT, Talks Skin Bleaching & Business Moves
​
Nov 08 | by Natasha
​ ​ ​ ​
The breakout star of "Braxton Family Values" is talking it up this week as she continues promo for season 2 of the reality show. Tamar Braxton is telling her haters to have a seat with those skin bleaching rumors and gold digging comments. And she says the show has indeed created more sibling rivalry.
Check out excerpts BlackEnterprise.com's interview with the youngest Braxton chick inside....
Tamar's obviously our fave Braxton sister of the moment--well, we love us some Trina and Traci too--so we had to relay the message she told BlackEnterprise.com this week about all the rumors floating around about her and her fam, including her manager husband Vince. She's also dishing on her post-reality show business moves.
BlackEnterprise.com: Do you think that the attention you've received has caused some sibling rivalry?
Braxton: At first I did, and it was very difficult for me because I would get accused of acting like a prima donna. But I'm like, if y'all think about it, I've been making the same faces since I was about 2 [years old]. I think the problem is when you see it on TV it's magnified. I believe it was difficult for my sisters to watch it and they became defensive. But again, I've always been candid and honest. I believe everybody is back to normal and it was more of the surprise the first season.

BlackEnterprise.com: When you think of developing and expanding your brand, what's your priority?

Braxton: The No. 1 priority is to complete my album and fulfill my dream. One of my other passions is talking to and empowering young women by teaching them about self-esteem, the importance of education and choosing a [career path] for their lives. I really enjoy doing things like that so right now speaking and empowering young women and helping them to be confident is something I've found I truly love and want to do more of in the future.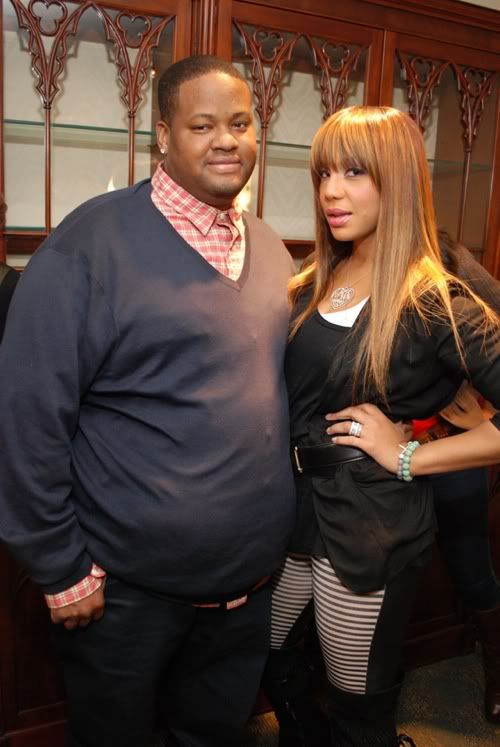 Tamar also told the haters to HAVE A SEAT with the gold digger rumors and she finds the comments about her teddy bear hubby Vince, who has recovered from his collapse, just disrespectful. Same thing with the skin bleaching rumors:
BlackEnterprise.com: What is the craziest rumor you've heard about yourself?

Braxton: God, there are several, but the one that really bothers me is that I [married] my husband for money. What? Where did that come from? Are you saying that because he's thick? How do you know I don't like teddy bears? I mean, really? Have a seat. Do people realize that [those comments] are very disrespectful to my relationship and friendship with my husband? I find no humor in that. To have people [speculating] about why you like what you like. Don't they think that could affect how he feels about himself or me? If we didn't have that openness and friendship it could. I'm sure those comments hurt his feelings. Sometimes people wanna say, "With all that mouth Tamar has…" and I say to [all of them], have several seats because I'm gonna always stand up for myself, my husband and our relationship.

BlackEnterprise.com: Unlike other celebs who go under the knife it's refreshing that you've always been candid about your belief in plastic surgery. In the blogosphere, there's been much debate about whether you bleach your skin. Do you?

Braxton: Yes, I believe in plastic surgery because I believe you're supposed to enhance what you are happy with. And if I bleached my skin then I wouldn't have stretch marks, right? So boom! (Laughs).
Gotta love that Tamar. Check out the full interview with Tamar over at BlackEnterprise.com.
"Braxton Family Values" Season 2 premieres this Thursday on WeTV.
​ ​
​ ​ ​