THE PICTURE: Sanaa Lathan Dancing It Up With Kobe Bryant Post-Divorce, Denies ANYTHING Is Going Down
​
Dec 19 | by Natasha
​ ​ ​ ​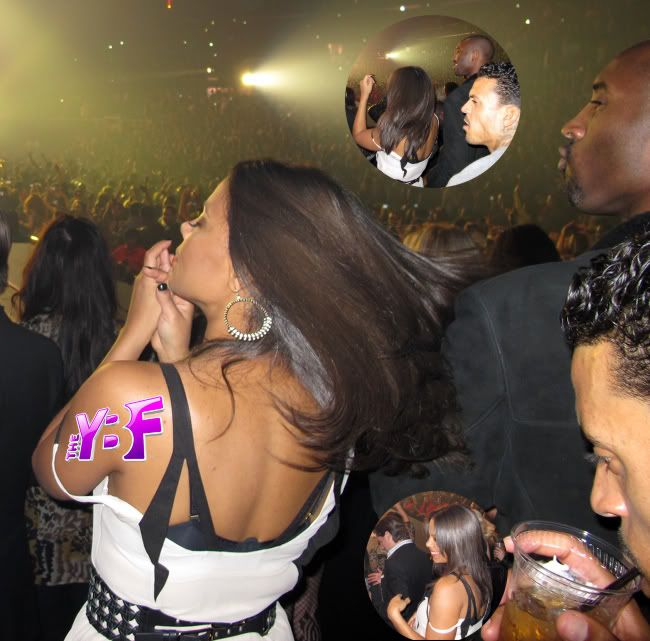 And the pictures in question surface. The rumor mill turned yesterday with news of Sanaa Lathan dancing "all over" a newly divorced Kobe Bryant at last week's Watch The Throne tour stop at the Staples Center. She denies it. He denies it. Now check out the actual pics in question...
The NY Post reported that Sanaa, who went to the concert with a girlfriend, ended up flirting all night with the almost single Laker star, right before his divorce was announced:
"She touched his face, and she was shaking her a-- in front of him to the music. Eventually, Lathan and Bryant ended up standing next to each other, and that's when our source said the actress, who was drinking champagne, became progressively more flirtatious with the NBA star, who stuck to soft drinks, presumably because he's in training. Lathan, attired in a sexy white-chiffon dress over what appeared to be a black bra, was "whispering in his ear" and at one point stroked the ballplayer's face. "It seemed like a pretty intimate gesture."

At one point she left her seat and when she came back, she made sure she was standing next to Kobe again," says the source She also danced to Jay-Z and West's performance in front of Bryant.

"She was throwing her head everywhere. Her hair was like slapping him in the face," laughs the source, who adds that at one point, one of the straps of Lathan's dressed slipped enticingly off her shoulder. When West performed "All of the Lights," Bryant and Lathan danced together.

For many reasons we doubted the story. And the new pics showing the two indeed at the concert still don't scream "come and get it Kobe" from Sanaa's end.
Matt Barnes, the Kardashian clan, and plenty others were also in the VIP section that night. Kobe's people said there was no face touching or flirting. And "The Cleveland Show" actress denied all claims as well tweeting:
Can a girl have some fun at a jayz/kanye concert w/out being linked 2 a breakup? I AM NOT, NEVER HAVE BEEN, INVOVLED W/KOBE IN ANY WAY.

Anybody who pays attention knows I'm not his type... Blank stare. #blackgirlsrock #dontbelievethelies

Well Sanaa...Kobe doesn't seem like your type either boo. And yes, we pay attention.
Still, we're calling foul on the rumor. Nothing to see here....nothing to see.
Pic via SPLASH
​ ​
​ ​ ​