Taraji P. Henson COVERS "UPSCALE" Magazine's February 2011 Issue And DISHES On Being SNUBBED By "TV Guide" And PLAYING A Bad Girl
​
Jan 12 | by _YBF
​ ​ ​ ​
Fab actress Taraji P. Henson posed for the February 2011 issue of "UPSCALE" Magazine where she dishes on motherhood, playing a bad girl acting in Think Like A Man, and the challenges she faces as a Black actress. Deets inside.....
Think Like A Man star Taraji P. Henson covers "UPSCALE" and dishes in the magazine about the VERY public snub she received from TV Guide last year, playing a bad girl on film, and the challenges she faces as a mom and actress. Here are the highlights....
On being a mom first, actress second:

"This Hollywood thing? It's my job. That's it. I love it and I worked hard for it. But it by no means defines who I am. When I go home, my family and friends say, 'I liked your movie. Now can you go was your dishes please?"
On speaking up and not apologetic about the TV Guide incident that snubbed her from the "Person Of Interest" cover story:

"I just stated a fact. And the people spoke. And then CBS pulled the whole cover. I get that all the time. Sometimes I admit I feel like, 'Can I catch a break?' That wasn't the first time it's happened and it won't be the last. This was just one time I chose to speak on it."
On facing fully forward and looking for new challenges:

"Hollywood keeps trying to tell me that black women can't open a film. I will absolutely prove them wrong before my career is done. I want to stretch my acting muscle and do something completely different. I'd love to play a man. Sounds weird, but I want to do something that make me work hard. Call me kooky, but I always want to go outside my comfort zone."
On playing a bad girl for the first time in the upcoming 'Think Like A Man' film:

"You've never seen me play this girl. She's a bitch. And she's the pretty girl in the film. I wanted this role so bad. I told the casting folks,'if you don't let me get that role, I don't need to be in this movie at all.' They were thinking about casting a white girl for the role and I said, 'No. I can do this.' And then of course, when it's time to start filming, I freaked out. I said, wait' Maybe I should play the baby-momma instead….[LOL] I was scared because it's so different than anything I've ever done."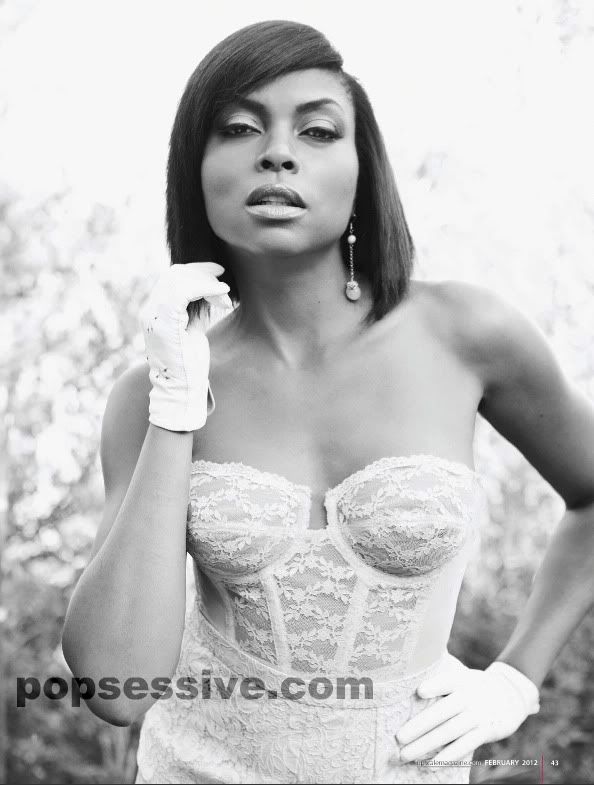 Looking good Taraji!
​ ​
​ ​ ​