Terrell Owens, The Baller DISHES To GQ Mag On Baby Mommas, Suicide Attempts AND Being Broke
​
Jan 25 | by _YBF
​ ​ ​ ​
In a shockingly candid article, Terrell Owens OPENS up about being the fallen football star with baby momma drama, debt and how feeling totally left out has led to him being in "hell." Get the deets inside....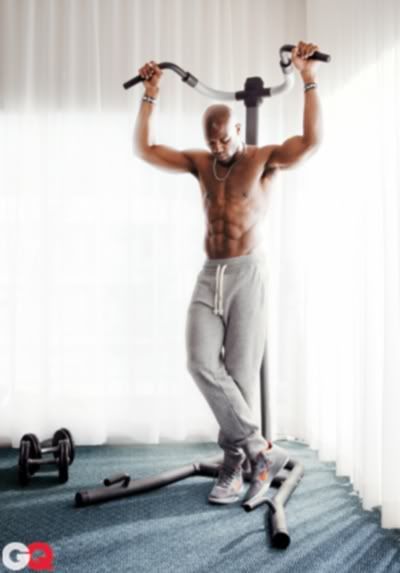 Terrell Owens KNOWS drama. In the past couple of years, there were two alleged suicide attempts, courts cases with FOUR baby mommas, loss of income (no NFL team wants him) and a big fallout with former BFFs Mo and Kita. Now during a candid interview with GQ for their February 2012 issue, he talks about all of it....and so do a few other people. Here are the highlights from T.O. being discussed by himself and those close to him....
On why no NFL team will pick T.O. up
An unnamed NFL exec said, "It's not his knee that's the problem; it's his attitude. He may have been less openly divisive with the Bengals, but you can't live down the destruction of all those years. With T.O., no matter how brilliant he can be on the field, the dark side is always lurking. You don't know which T.O. you're going to get, and no one is comfortable risking that."
On his vulnerability

Reality tv-show producer Jesse Ignjatovic said, "I can't imagine another NFL player who would let us film while he told his mother, who relied on him, that he was going broke, someone who wouldn't hold back tears while he stood there in her kitchen."
On how his business partners helped him blow $80M

"I hate myself for letting this happen. I believed that they had my back when they said, 'You take care of the football, and we'll do the rest.' And in the end, they just basically stole from me."
On being lonely
"I don't have no friends. I don't want no friends. That's how I feel."
On baby momma regrets
He says, "If there's anything I'm sorry about, it's getting involved with all that." He added that he never dated any of the four women he impregnated...mostly they were "repeat offenders." He resents them for suing him for more child support money as he's going broke.
On suicide attempts -
He chalks them both up to "misunderstandings."
On his big fallout with Mo and Kita

He says he missed Monique and Kita whom he stopped speaking to after he discovered they were trying to sell their own lives as a reality program. "They said they were planning to make me an executive producer, but if we were business partners, don't you think I would have known about it?"
Watch the behind the scenes clip here:
​ ​
​ ​ ​