Nicki Minaj Covers NEW YORK Magazine, Explains Controversial GRAMMY Performance
​
Feb 13 | by Natasha
​ ​ ​ ​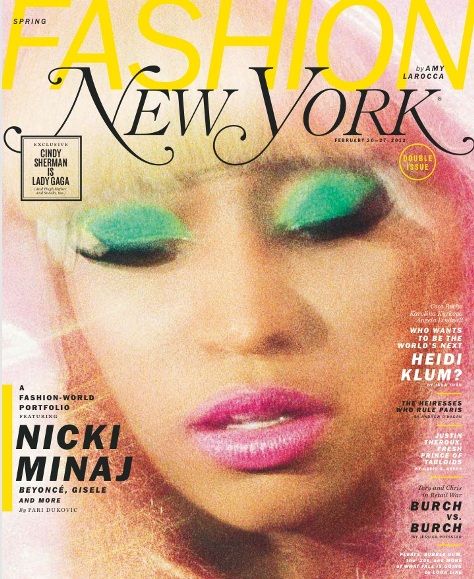 Nicki Minaj is talking about fashion--and why she's over that world. The "Stupid H*e" rapper tells New York Magazine that she's not about fitting into the IN crowd. And she tells Ryan Seacreast why she went the route she did last night....
In a series of candid shots with gritty special effects, Nicki poses for the Spring FASHION issue of New York magazine. Here's highlights from her interesting perspective about the fashion world--and why she's skipping NY Fashion Week for the most part:
Are you coming back to Fashion Week this time?
I'm not impressed to be in that world. I'm in my own world. I think sometimes the fashion world isn't even about clothes anymore; it's about this "in" crowd, and I'm not into that. But I'm doing a Barbie fashion show. They did a Barbie for me, and that is super friggin' amazing.

So is it safe to assume that you were always interested in fashion?
I've always been intrigued by color and by interesting hair. I was one of those weird little girls doing my own hair at the age of 9. I was, like, getting weird gels and new brushes and cornrow holders. I would tweak and perm at the age of 13. When I first went to get my hair colored, I was about 14 and I wanted blonde highlights. The beautician said, "No, you have to get your mother on the phone," and I was just crying and begging. I've always been experimenting. Cyndi Lauper's videos—that's what intrigued me.

And you definitely use your looks to get noticed.
I like the idea of doing something that everyone else is not. I get high off that. Just the idea that other people don't have the balls to do something—that's my thing.

Here's the rest of her pics: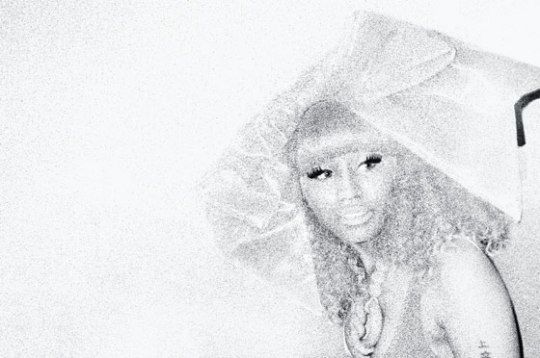 And if you're still scratching your head about her performance last night at the GRAMMY Awards--you're not the only one.
She talked to Ryan Seacrest today on his radio show and revealed a few things:
On attending the Grammys with a Pope look-alike: "The religious figure is there because he was called on by Roman's mom to rehabilitate him."
On her debut performance of "Roman Holiday": "I had this vision for him to be sort of exorcised—or actually he never gets exorcised—but people around him tell him he's not good enough because he's not normal, he's not blending in with the average Joe. And so his mother is scared and the people around him are afraid because they've never seen anything like him. He wanted to show that not only is he amazing and he's sure of himself and confident, but he's never gonna change, he's never gonna be exorcised. Even when they throw the holy water on him, he still rises above."
On why she chose "Roman Holiday" for the Grammys: "The Grammys chose 'Roman Holiday.' The producers of the Grammys came to the studio and I played them 'Roman Holiday,' and I could not play them another record after they heard that. They went crazy. I could have chosen to do a no-brainer pop song, but I can't do it anymore. I have to stay true to what I'm doing."
Feel like we're listening to a 12-year-old during a tea party with her imaginary friends. But if that's what works...
Here's the audio in full:
Peep Nicki's performance from last night HERE in case you missed it.
And Nicki's Nickelodeon Kid's Choice Awards promo with Will Smith. The show airs live Saturday, March 31 at 8 p.m.
​ ​
​ ​ ​