EXCLUSIVE: June Ambrose Talks Her OWN Fashion Line & The Drama Of Her New VH1 Show
​
Feb 16 | by Natasha
​ ​ ​ ​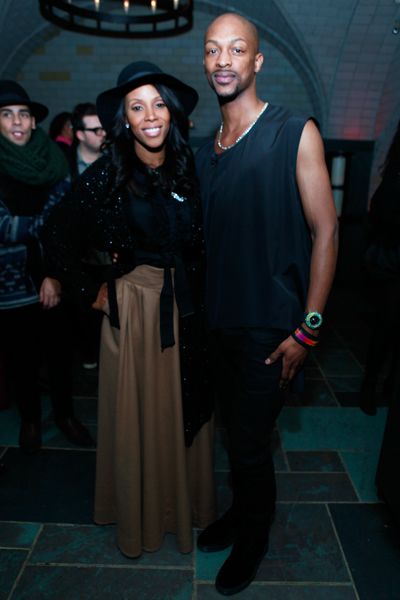 June Ambrose isn't just a master of celebrity A-Lister's fashions. The YBF has exclusively learned that she's launching her own women's contemporary fashion line! And that's after her new eyewear line she's launching as well.
Check out our Fashion Week chit chat below as we caught up with the styling guru...
You know you love fashion--and your job--when you spend Valentine's Day not with your husband, but at NY Fashion Week festivities. TheYBF.com caught up with June Ambrose, stylist and the star of her own "Styled By June" VH1 docu-reality show, at LaQuan Smith's Fall 2012 presentation this week (pictured above with the designer):
On June's own upcoming eyewear & women's wear collections:
I am launching an eye wear collection with Selima Salaun this March [Selima Optique is a trend-setting, luxury eyewear brand]. It's a collaborative effort and it's my first collaboration with an established designer. But I am also finishing up my sample collection for my own line--my women's contemporary line. We hopefully will be in markets for Fall 2012. You all are the first to have that news!
On her upcoming docu-reality show:
I think everyone will be surprised by it. And I wouldn't call it a reality show, there is some type of format to my show. Something that you have to stay tuned to and definitely watch. My kids aren't really involved, but they do make a guest appearance. They're sprinkled in....
There's lots of drama, there's lots of good energy, there's a lot of stuff to take away to learn. The drama is survival. Each client presents a new challenge and you take the journey of the emancipation.
On fashion in black history month:
For 2012, I made a commitment to support black young designers. LaQuan Smith is someone who I've admired for many years and am so excited to see how he has evolved as a designer and an artist. He is the future of the fashion industry. I'll continue to support my young black designers, in any way I can.
On the one thing she can not leave the house without:
My iPhone! It's all about capturing the moment. It's not very stylish...but what else will I take pictures with? And my daffodils, I have to have those.
On what inspired her look for the evening (pictured above):
I'm a mom...and I have to rock. It's fashion week so I'm really just wearing a bunch of stuff that I love...nothing I'm wearing is new. It's all stuff that comes right from my closet.
On the one designer she would choose to do a collaboration with:
I would do a collection with Tom Ford. I'm obsessed!
"Styled By June" premieres March 19th on VH1.
Photo Credit: Vinnet Bradshaw/GeniusHatesCompany.com
​ ​
​ ​ ​