Meagan Good REFLECTS On Her Friendship With Whitney Houston And Hints That Biopic May Still Happen
​
Feb 23 | by _YBF
​ ​ ​ ​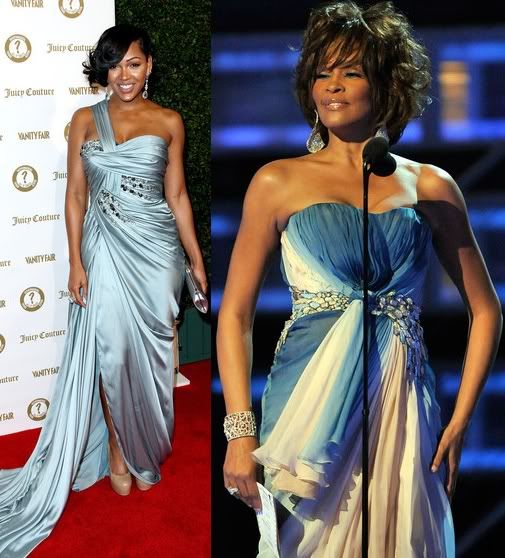 Before her death, Whitney Houston was considering turning her life into a movie with Meagan Good in the lead role. See what Meagan had to say about Whitney's sassy spirit and if the film will still happen inside ....
Meagan Good recently revealed to E! Online that she and Whitney previously discussed a possible movie for Meagan to star in....based on Whitney. Meagan recently talked about the flick and what she remembers about Whitney.
"We were fairly in the beginning stages," Meagan said at the Vanity Fair and Juicy Couture's Vanities party at Siren Studios in Hollywood this week. She said a big concern was how the movie would end.
"My feeling is because she has the film Sparkle coming out and she's brilliant in it and she looks beautiful and healthy, my feeling was that's how we should end the movie—as a new beginning for her."
If the movie does get made, don't expect Meagan to do any singing.
"I don't think we've ever had a singer in history that I remember that could sing like her. Plus, when people see someone's life story they want to hear that person's voice because they connect with it, in their spirit and their soul. So you would have to use her voice."
While discussing Whitney (in the present tense) Meagan began to get emotional saying,
"For anybody spending time around Whitney, she's so much fun. She's got just like a sassy attitude and is very funny and funky. She's definitely a fun person to be around."
R.I.P. Whitney Houston
​ ​
​ ​ ​