YBF EXCLUSIVE: Estelle Lands "VIBE VIXEN" March 2012 Cover, DISHES On Her Lauryn Hill Inspiration
​
Mar 14 | by _YBF
​ ​ ​ ​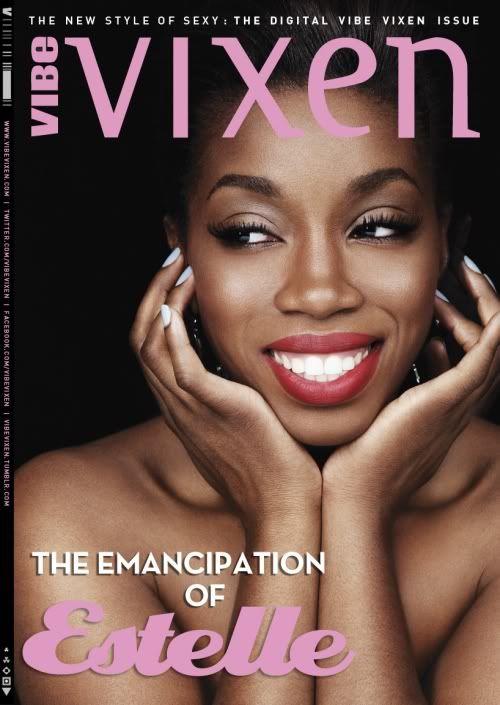 R&B chick Estelle covers the March 2012 issue of "VIBE VIXEN" where she dishes on failed relationships, Lauryn Hill and the hardships of celebrity. Highlights inside....
In the latest issue of VIBE VIXEN, Estelle is giving pretty face time and is featured in an article called 'Estelle: All Dressed Up In Love.' She dishes on failed relationships and being inspired by Lauryn Hill. Here are the highlights....

On the failed relationship that inspired her album All Of Me
I didn't feel good. I didn't wake up in the morning smiling. In arelationship when that starts to happen, you might want to push them while you're in it. They say through thick and thin, but when it's always thick and it's always bad and it's always negative, it's never really going to turn into something. You know it's going to be wrong but you're like, no I want to stick around. It's a waste of your life.

On being a celebrity in a relationship
You're going to pay for it for who you are somehow. I won't complain. I love my life, I love my job, I love what the hell I do, and I love who I am. This is my existence. This is what I do. But it's a tough thing to have to deal with always having that hung over your head, that feeling of well, he might throw that at me that he cooked for me today, like that's not standard. I didn't cook for him the entire week because, well, I'm me and I should be lucky that somebody wants to do that for me.

On the album's Lauryn Hill influence
That was intentional. I think people need to talk. They need to have the conversation that [Lauryn's] album had. They need to have that pull together that the album had and remind people that skits are fun, too. And it reminded me that I wasn't alone, again.
A second cover for the issue hits stands later this month. Check out the full article at 12p ET over at VIBE VIXEN.
​ ​
​ ​ ​