FOOLYWANG MATERIAL: Man BREAKS Into Diddy's Home AND Eats, Sleeps And Drinks His Ciroc....For The Second Time!
​
Apr 13 | by _YBF
​ ​ ​ ​
A man with mental issues broke into the East Hampton home of Diddy recently. He was convinced that Diddy wouldn't mind if he crashed there so he made himself at home by eating the food, drinking the drink and wearing his clothes! Deets inside....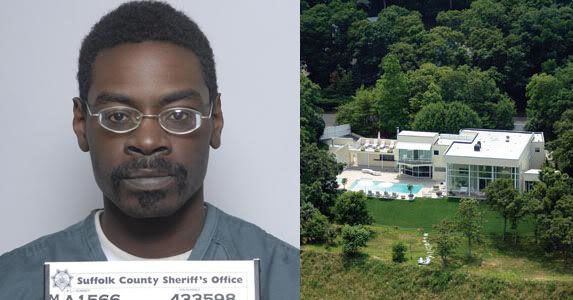 Although Diddy constantly invites his fans to live the Ciroc lifestyle, one special fan took him up on that offer by breaking into Mr. Combs' East Hampton mansion and living the fab life for a few hours!
In a weird case, a man by the name of Quamine Taylor, 30, of Jamaica, Queens, is seriously convinced that he and Diddy are "cool." So cool, that Diddy doesn't mind letting him crash at the mansion. At least that's what he told police.
Quamine, who pulled the SAME STUNT ten years ago, said,
"I've actually been going to the house from time to time since 2001. I stay there a lot, but Sean gets funny sometimes about me staying there," he said from Suffolk County jail.
His mom added this claim,
"He grew up listening to [Diddy's] music. He has a long history of mental illness, and he has been off his meds for a while. We have been trying to get him some help."
So how did this happen? Simple. Quamine took a cab to Diddy's crib from the train station and managed to sneak around security and find an open basement door. From there, he lived the Ciroc life.
He rocked Diddy's clothes, ate his food and hit the liquor supply. And when he tripped an alarm, he convinced security that he was Diddy's "friend" and was allowed to be there!
He was busted after a restful night when a caretaker found him. He said,
"I got a good night's sleep, but it's not anything too special. It's just like a three bedroom."
Yes indeed. Dude was arraigned on trespassing and petit-larceny raps and is being held in lieu of $2,000 bail.
​ ​
​ ​ ​