Pilar Sanders RELEASED From Jail, Denies Deion's Attack Allegations
​
Apr 24 | by Natasha
​ ​ ​ ​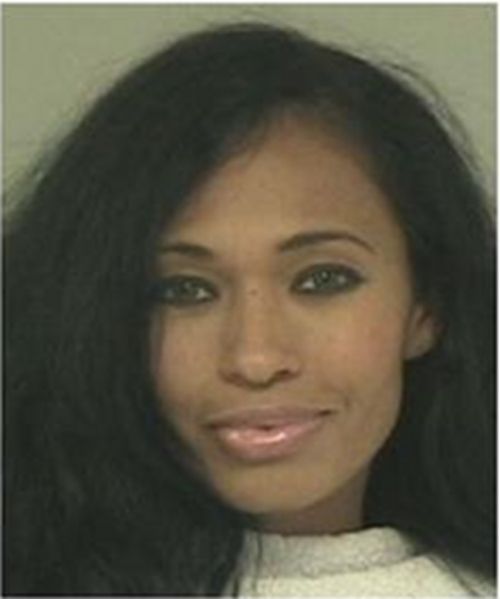 Pilar Sanders has just been released from Colin County jail down in Dallas. She's been in lock up since last night after she allegedly, according to Deion's police report, attacked her estranged husband in their bedroom. Deets plus pics of her leaving the facility inside...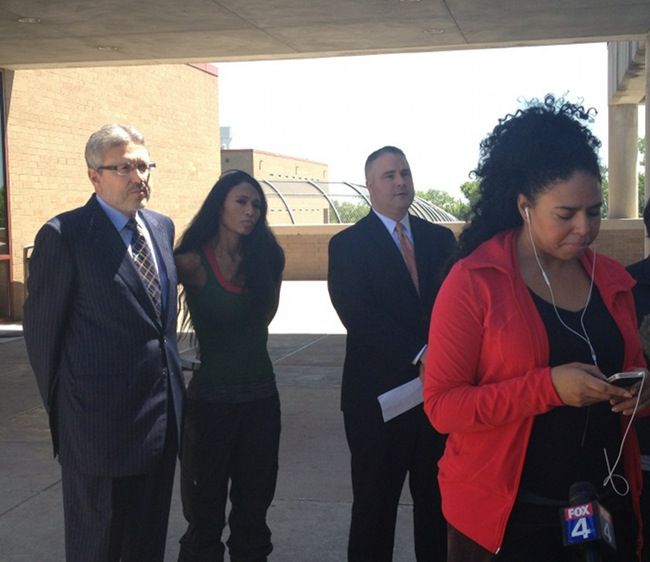 Pilar Michelle Sanders was charged with assault family violence last night. After reportedly jumping her husband Deion Sanders in the home they still share, despite the fact they are currently going through an extra bitter divorce, police arrested her on the site. The exchange occurred as soon as Deion returned from spending a public night with his alleged mistress/new girlfriend Tracy Edmonds. Deion tweeted that he had just gotten jumped by Pilar & his friends, then tweeted a photo of him and their sons filling out a police report.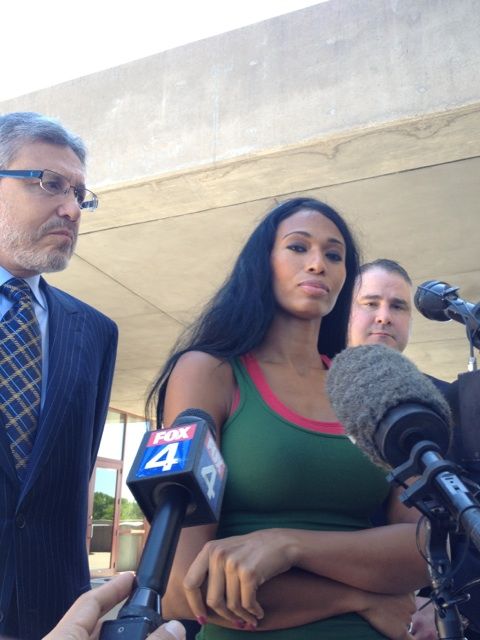 Just minutes ago, Pilar was seen leaving the jail facilities and visibly shaken up. ESPN reports she denies ever attacking Deion, but the magistrate judge still ordered her to stay away from the couple's suburban mansion in Prosper for the next 60 days.

"I'm a full-time mom, 100 percent for my children," Pilar said to KTVT News, with her voice breaking as she was released. "And I just haven't been given a fair shake."
Pilar's sister Kande Biggers also made a statement. She said,
My sister, Pilar Sanders, is completely innocent of the charges against her. The idea of a 120 lb woman jumping a professional athlete is ludicrous. It's time for everyone to see who Deion Sanders really is. Pilar has stood strong and silent to protect her children, never bringing any defamation or slander to Deion's name. It's time to break the silence…not just for Pilar, but for all of the women who need to break their silence in dealing with husbands who want to control and abuse them to the bitter end. Deion Sanders is not, and never was the man he makes himself out to be… It is time to shed light on the truth and make things right. We humbly ask that everyone respect their children and no longer help Deion exploit them in the media by releasing photos or videos of any kind. Thank You
Listen to Pilar speak here:
Meanwhile, Deion took to his twitter again today with a pic of him and his kids smiling, saying "Smile if u know God is good! We're smiling baby. Joy came this morning and we opened the door and let Joy in."
Larry Friedman, Pilar Sanders' divorce attorney, said today that he can't comment about her arrest because there is a gag order in place. He did say in a statement, "I can tell you that there are two sides to every story and the truth will come out in court."
Goodness...
​ ​
​ ​ ​