Rick Ross Signs Omarion to MMG! Reveals "God Forgives, I Don't" Release Date
​
May 02 | by _YBF
​ ​ ​ ​
Hip hop rockstar Rick Ross held a press conference in NYC today where he announced the summer release date of his much anticipated God Forgives, I Don't LP. Oh, and that Omarion is gong to the Maybach Music Gang. Deets inside....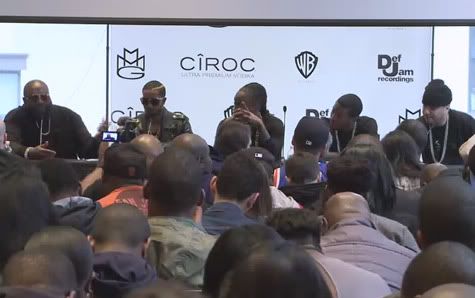 Earlier today, Rick Ross held a press conference in New York (attended by friends Diddy, Swizz Beatz, and Lyor Cohen) where he made a few huge announcements regarding the Mayback Music Group.
First up, MMG will release their second compilation Self Made, Vol. 2 will drop June 26 featuring the single "Bag of Money."
After that, Rick drops his fifth album God Forgives, I Don't on July 24. He added, "This is my best body of work yet."
And if that wasn't enough music, Meek Mill drops his MMG debut Dreams & Nightmares on August 28. His mixtape Dreamchasers 2 will be released on May 7 featuring appearances from Drake, Rick Ross, Gunplay, and 2 Chainz.
Also during the conference, Diddy stepped to the mic to thank Rick for helping him take Ciroc to the next level. The Twitter world was buzzing with news that Ciroc went from 40,000 cases to moving 2 million cases with Rick's endorsement. Diddy added, "He to me is definitely one of the hardest working men in this business. This is no accident. This is all designed, this is all planned out."
And with more shocking news, Rick announced that he has signed Omarion to Maybach Music Group.
"Today I become a made man. Omarion aka Maybach O.," said the former B2K singer. His first single "Let's Talk" features Rick and samples Notorious B.I.G. and Salt-n-Pepa.
While talking about their new working relationship, Rick said of Omarion, "I ran into the homie, we had a few conversations and I flew him down to Miami and he played me a dozen records. I was amazed by the music he put together. We had a few conversations and we made a situation happen. He's a phenomenal entertainer. His dancing is incredible. He's an actor, he's a writer. I thought it would be a great move for both of us. I've been looking to enter the R&B arena, I felt he was the best artist to kick the doors open."
Maybach O though? Sigh...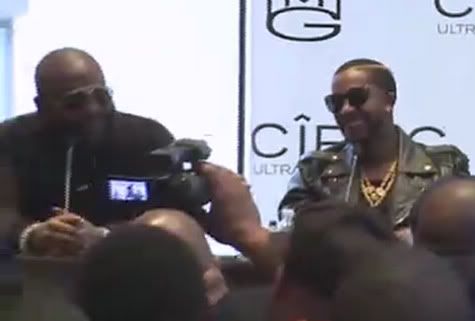 Watch Omarion talk about the move to MMG with Shaheem Reid of XXL:
Maybach O? That's your new movement? That's how you feel right now?

Yeah, Maybach O. That's the new movement, man. I'm so excited. I can't even express, you know, how excited I am, you know what I mean? And just how this whole thing came along, man, it's just…It's been a blessing. There's a difference between your time and when you want to do things and God's time, you know what I mean? And this right here man, it's been God's time, man. I saw Ross in North Carolina, you know, and I was telling him like "Yo I'm bout to do…"

At the CIAA?

Yup. I saw him out there and I was like "Yo, I'm 'bout to…you know, I need you on these records, man, you know what I'm sayin'? I'm 'bout to do this ill so and so with so and so." And he was like "Man, we need to have a conversation before that." And we sat down and he said some real important things to me that not even executives have said to me, you know what I mean? He showed that love and he showed that respect and he was like "I believe in you," you know what I mean? I can't even count to you how many times on my hand in my whole career that I've actually had people tell me that.
Well this ought to be interesting...
​ ​
​ ​ ​