EXCLUSIVE: LisaRaye McCoy DISHES Motherly Wisdom On Handling Men, Discipline And PARENTAL CONTRACTS
​
May 12 | by _YBF
​ ​ ​ ​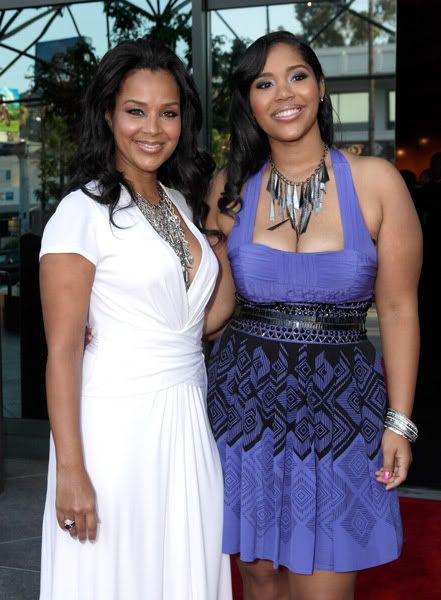 To celebrate Mother's Day weekend, the white-loving Hollywood diva and star of VH1's scripted series "Single Ladies," LisaRaye McCoy, chatted up TheYBF.com about motherhood. And she offered advice on her own journey...which is no stranger to controversy. Also, she told us about her "parental contract" which might be a nifty little tip other moms can use....
As the mother of 22-year-old model Kai Morae, Chicago native LisaRaye has balanced her own career with good old fashioned parenting. And she's learned that mothering has its rewards and told us it's "the unconditional love I feel for my daughter." But it also presents its challenges. The divorced dramedy actress says the hardest part about being a mother is discipline, telling us:
"When I've had to put my daughter on punishment, it physically hurts me."
Here's more of what LisaRaye shared....
On relationships with men & love
"I tell my daughter you have to beware of all types of people. And she has to be aware of herself because there are going to be failures and downfalls in life. Period. But I think the greatest preparation for that is experience. The best thing is to make sure your child has a strong enough character that pitfalls won't knock her down and take the breath from her. And she will know how to pick herself up."
On communication
"I had those sidebar talks with my daughter about sex and birth control and doctor appointments. I think because I'm a mother who's in the public eye, I have to stay current on what's going on. It makes me kinda "cooler." I'm saying that to say I'm more "in the know" with my daughter. We have a friendship and speak about anything. Having your kids trust you and be able to come to you about anything is important."
On discipline and contracts
"My daughter has lived a privileged lifestyle by virtue of being LisaRaye's daughter. And sometimes that's a downfall because you have to learn how to get it for yourself. So for me, I had to sit her down and say--I'm going to make a contract between you and I. This contract will say what I will do for you and these are the things I am expecting in return. I did this because life is a contract. Everything you do from your first car to your first house is a contract. So you have to abide by the boundaries of the contract or there will be disciplinary strikes against you. And it works for us."
The idea of a contract with your child sounds like a great nugget of wisdom to pass along to parents. Sweet!
PS: Season 2 of "Single Ladies" premieres Monday, May 28th at 9/8c on VH1. Check out a few promo clips below:
​ ​
​ ​ ​