FASHION SHADE: Andre Leon Talley & Protégé Ralph Rucci On Beyonce's Met Ball Lateness & Why A Designer Would Be "Bastardized" For Dressing Kim Kardashian
​
May 22 | by Natasha
​ ​ ​ ​
There's nothing like that fashion world shade! VOGUE's Editor-At-Large Andre Leon Talley & his designer protégé Ralph Rucci recently talked all things Met Ball & celebrity. The twosome gave insight on why Beyonce's lateness was definitely excusable...and why rumors of Kim K. (who they allude to being a brand's kryptonite) being banned from the Met Ball by Anna Wintour may have some unofficial truth to it....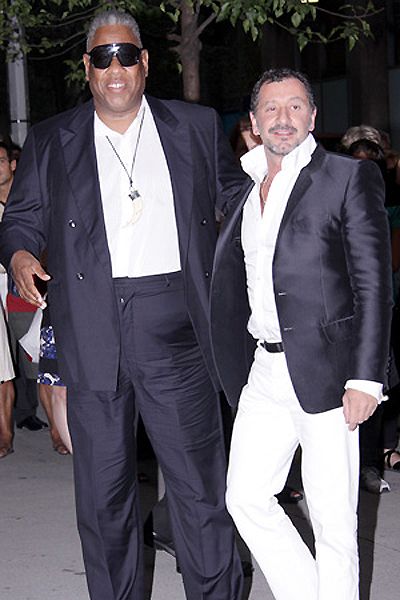 Andre Leon Talley was never a fan of red carpets and celebs becoming fashion icons--but he's loosened up his cape over the years. But what he won't budge on chicks like Kim Kardashian getting prime fashion world treatment. And we can't really blame him.
Along with designer Ralph Rucci (pictured above), the two gave an interview to Fashionista.com that had us snickering away. Yes, the rumors of Beyonce being late were true--but they confirm the reason why. And they said why Kim K. could BASTARDIZE a designer:
On why Beyonce was late for the 2012 Met Ball:

Andre Leon Talley: Beyonce was not slated to come. She decided to come last minute when the dress [which he later said took 350 hours to sew] arrived at her house. She tried it on and then she said, 'okay, I have to come.' She did arrive at 8:55 and the ball had already started but it didn't matter because she is Beyonce.

On the word 'couture':

Ralph Rucci: The word couture is over used.
Andre Leon Talley: It is abused!

On why a celebrity stylist's work can be disrespectful to a designer:

Ralph Rucci: I bow to Tilda Swinton. We approached her [to wear our garments on the red carpet.] But there's a buffer in between the star and the designer, and the buffer is called the stylist. I do not not lend clothes [but before we send clothes] we make sure: Is a stylist on this? Is this being selected for Tilda to wear specifically? If [the garment] is going to be thrown in with 100 other garments [by the stylist], it's disrespectful to what I do and to the women who buy those clothes.

On how fashion really works:

Ralph Rucci: You're not just selling clothes, you're buying [retail] space. The most prestigious department stores say they'd rather take an inferior garment early than a superior garment late.

On Kim Kardashian not attending the Met Ball and why dressing her would bastardize Rucci's brand:

Andre Leon Talley: What's shocking to me is how important the red carpet is. At one point I thought it was ruining [fashion] but I don't think that anymore. I don't think any celebrity can take away from fashion. Not even Kim Kardashian could take away from fashion…Though, of course, Kim Kardashian didn't come to the Metropolitan Met Ball but [her boyfriend] Kanye West did.

Ralph Rucci: And see that's the thing: Many people who I think are the celebrities, other people don't think are the celebrities [implying that he doesn't think Kim Kardashian is a celebrity.]

Robin Givhan: So would you ever dress Kim Kardashian?

Ralph Rucci: No, I think that's bastardizing yourself [as a designer].
Teheee. Daaahhhhling....
​ ​
​ ​ ​