OH: NeNe Leakes--With Ex-Husband Greg--HONORED At The Georgia Association Of The Deaf Gala
​
May 29 | by _YBF
​ ​ ​ ​
NeNe Leakes (shown above saying "I Love You" in sign language) delivered a speech at Georgia Association of the Deaf's Deaf Children's Literacy Benefit Gala over the weekend. See pics of NeNe inside with her "date"--ex-husband Greg Leakes.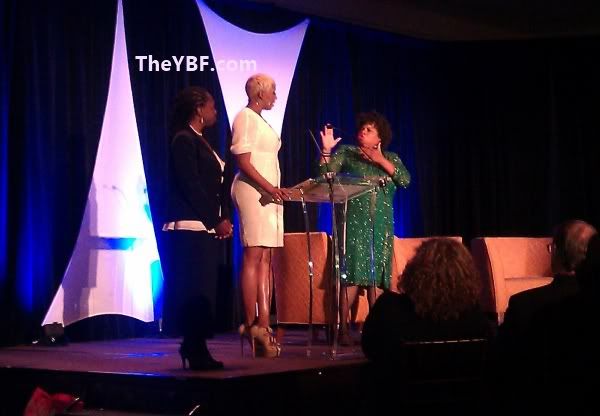 "RHOA" star Nene Leakes delivered a speech at the Georgia Association of the Deaf presents Deaf Children's Literacy Benefit Gala recently.
NeNe spoke about her rise to fame and time on "Celebrity Apprentice" to the patron in the room who raised money for deaf children.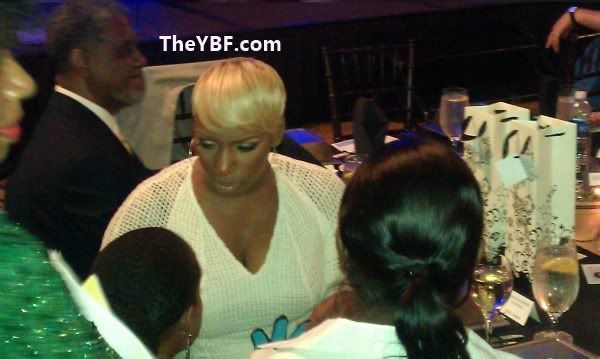 And look who NeNe brought out as her date.......ex-husband Greg Leakes.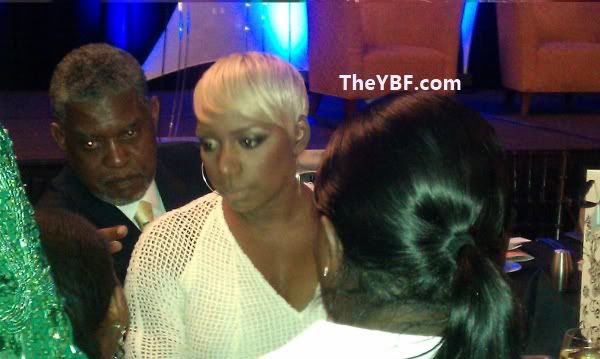 Meanwhile, chick is still "very rich" recently tweeting, Shopping n Beverly Hills! I'm looking @ homes tomorrow...Maybe I will move here. Sounds like she's campaigning to join the cast of RHOBH.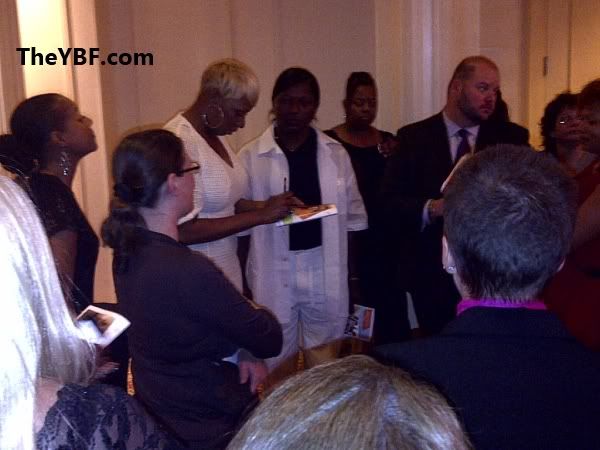 Gala Co-Chair, Christopher Patterson said, "Georgia Association of the Deaf (GAD) is so fortunate to have the support of so many talented and selfless individuals who will help us create this magical experience for our Deaf Children."
BONUS:
Though she may be loud and "in your face" NeNe Leakes is outraged by all the fighting on reality tv. During a chat with VIBE.com, she expressed her dismay with where "BBW" and other shows are headed and adds that you have NEVER seen a physical fight on "RHOA." She also dishes on "The New Normal" and her personal growth. Here are the highlights:
VIBE: Are you still shooting the next Real Housewives of Atlanta?
Nene Leakes: I am currently shooting. We've been shooting for about three weeks. We have a long way to go. Everybody wasn't expecting me to come back for this season. It was really a hard decision for me to even think of coming back because I was so tired of the whole reality thing. And not just being tired of it—I had other things in the works. But I think it's a good idea that I've come back for season 5. I would love to just walk away, but when I sit down and talk with my team, it's not… If you can do it all, then just do it all. Why leave the show when you can still do the show and you can still do The New Normal? So we're going to see how doing everything works. We'll see what happens. We're taking a little bit of a chance.
You seemed a little calmer in the most recent season of Housewives. Was that just personal growth?
I really think it is. We're looking at our fifth season—and I shot the pilot so I feel like I'm in my sixth season. When you have done it over and over and over again in the same negativity, it just wears you down. And I just feel like after a while, I just can't do this job no more. Like, seriously? That's how I felt sitting there at the reunion. Like, this is just too petty. Yes, I love reality TV, and I believe that you can do reality shows and have drama. You gotta have drama and entertainment, but some of the stuff has driven me insane. I do really think that it's personal growth. It's almost like being in a relationship and you're like, I done taken all I can take and I can't take no more. I sort of felt the same way with the show—I've taken everything I can take, I'm just tired. But I don't know how interesting I'll be this season. 'Cause I feel like I got boring. I gotta get some pep in my step [laughs]. We're all sitting there and it's all this silly, petty, who said what and I'm just sitting there and people are expecting me to really say something and I'm just thinking, what do you say. I think you almost look better when you sit there and look at 'em like they're crazy.
I don't know if you've been keeping track of Basketball Wives. Our current cover features some reality stars. What's your take on whether it's gotten out of hand? You mentioned that we always need drama. But the physical fighting, some people have said it's gone too far.
It's gone way too far. The truth is the truth. It has just gone too far. Too many fights, my God! I can see if there was one here or there. And I always say to people when they say something about reality, you can say whatever y'all want about reality TV, Atlanta Housewives, we don't do that. We definitely have had our verbal fights, but never physical fights. I can't believe the fighting and the bullying. It looks bad. It really looks bad. I don't like when people say it affects Black women or the Black community. I think it affects all communities. I think it looks bad on women; it looks bad on everybody. It's just so sad; it's so crazy to me. When I look at it, I just can't believe it. And, you know, I'm friends with Jennifer [Williams] and she's on Basketball Wives. I can't believe it. I almost, you know when I watch, I'm like, "How much do they paid?" [Laughs] My goodness. And then I think about—they can't want to do too much in their careers. A good ole argument, everybody likes that every now and then to tune into, but you couldn't be trying to have too much in your career because that stuff, it don't work. You can't represent a product and be that way. That just doesn't work. That's one of the reasons when I'm sitting on my show, I'm thinking I'm just tired. Because at some point this can't even help my future. You know, you would want to think that it would help your future.

Photos via Josh Childress
​ ​
​ ​ ​