SPOTTED: Nas OUT & ABOUT In West Hollywood
​
May 31 | by Natasha
​ ​ ​ ​
Nasty Nas is in L.A. wrapping up his upcoming Life Is Good album (dropping 7/17). And he was spotted out and about in West Hollywood yesterday with Capricorn Clark--Bad Boy's Marketing Exec. We're not sure what's going on there--but we're sure they'll maintain they're friends and/or just working together. Pics inside...
After grabbing lunch in his bright green Adidas track suit and Jordans, Nas hit the streets of West Hollywood to likely head to the studio: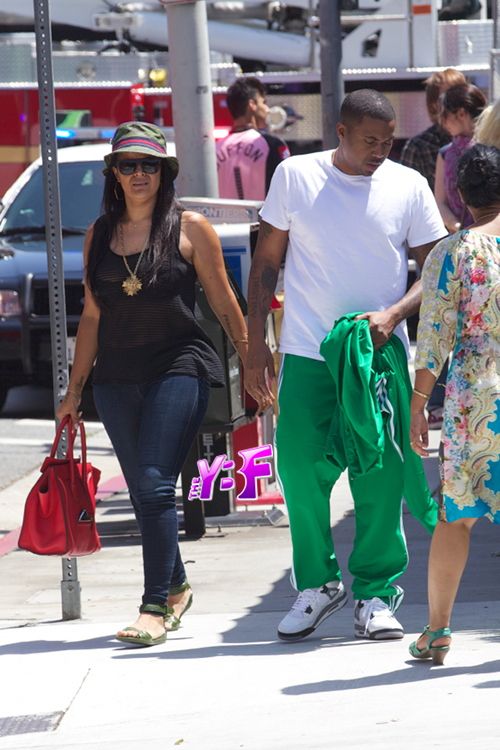 It's been a big week for the sexy Mr. Jones as he dropped his brand new "Daughters" video featuring his own little girl Destiny. And he just revealed that he will be unveiling his brand new website and upcoming tour dates tomorrow.
About the meaning of his new album's Life Is Good title, Nas told Complex magazine this month it's all about getting to a point where you master your own life, and not letting thieves and money bring you down:
I never liked dealing with money. It comes between real shit. Friendship, loyalty, and love is the real shit. Money is the other shit. I have one way of dealing with money, and then you have educated people, who know how to deal with money, and we have conflicts there. It's like in the movie Wall Street, my man Gekko says, "Pay attention. Money's a jealous bitch. Either you're going to pay attention to her, or she'll find someone else that will." And mine has definitely found other people who appreciate her more. [Laughs.] I've neglected her and abused her. I let a person take her from me—and I don't mean my ex-wife, I mean some bad business from, like, six years ago that's affecting me now. And I take responsibility for it, because it's my problem. But I still see that as something I have to fix, because if you don't fix money, it'll fix your ass.
Check out more highlights and pics from his new Complex spread HERE in case you missed it.
Pics via WENN
​ ​
​ ​ ​