Chris Brown DROPS In On "106 & Park" + Trey Songz's "2 Reasons" Featuring T.I.
​
Jun 12 | by _YBF
​ ​ ​ ​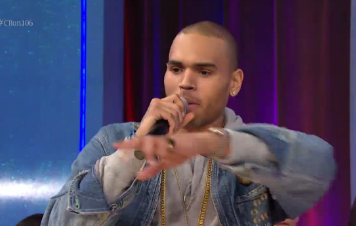 Chris Brown dropped by "106 & Park" yesterday to talk rumors (like whether he bought that Grammy) and new music. Watch his interview inside and check out a new version of his "Oh Yeah" track. Also, listen to Trey Songz's "2 Reasons" featuring T.I.
Chris Brown stopped by "106 & Park" yesterday where he thrilled fans with a line from "Birthday Cake." And before dropping his "Don't Wake Me Up" video, he opened up about winning a Grammy and the mixtapes he's jamming.
Here are the highlights:
On winning a Grammy and the rumors that he bought it:

"It's just a blessing to be able to perform and go through what I went through, my trials and tribulations, and to be able to overcome it and be able to say I got a Grammy, I'm doing my thing, it's great. I ain't buy it!"

On his upcoming BET Awards performance:

"I wanted to do the beginning of Chris Brown all the way till now, but we're going to give them something to look at and have fun with."

On what he's listening to:

"I'm into mixtapes. Shouts out to A$AP Rocky. I think his movement is dope. As far as like Big Sean, Tyga, a lot of my homies, Wiz Khalifa, Meek Mill… I feel like as a youth, artists are starting to come together and do it for the youngsters. We're showing them how to floss a little bit, but at the same time, do it for the young kids."

On his dream movie role:

"I would love to do the autobiography of Sam Cooke."

On how he relaxes:

"Nice music, four to five girls laid out. They can be walking around or whatever. Sand, water, oil."
Four or five girls laid out? Oh....
Watch his interview clips here:
Also.....
Chris dropped a beefed up version of his "Oh Yeah" track featuring rappers Snoop Dogg and 2 Chainz. Check it out above.
Also in new music....
"2 Reasons," the second single off Trey Songz's Chapter V disc, features the King of the South, rapper T.I. Check out the new red cup-party track above and pick up Trey's album August 21.
​ ​
​ ​ ​