Evelyn Lozada Reveals Her Explicit Sexcapades With Chad & Other Women, MaMa Dee Takes Us Down Her Road Of PIMPING
​
Jun 21 | by Natasha
​ ​ ​ ​
On the latest installment of "Real Housewives of Atlanta" star Kandi Burruss' web show Kandi Koated Knights, "Basketball Wives" star Evelyn Lozada & "Love & Hip Hop Atlanta" star Mama Dee came on to talk about their explicit sexcapades and pimping. In that order.
Deets inside...
For last night's topic--Why Do Women Have to Work So Hard to Keep A Man--both Evelyn Lozada & Lil Scrappy's mother Mama Dee hit the show to offer up their perspectives.
Evelyn--who is on promo rounds for her new book The Inner Circle and her upcoming reality show "Ev & Ocho" with her fiance Chad Ochocinco--gave a play by play of what she does in bed to keep her NFL man Chad happy.
Summary: Yes, she happily gives that Becky. Yes, she's had an "eat the box" experience with another chick. Yes, she tosses salad (but not Chad's). She and Chad almost had a threesome. And yes, she's partakes in back door sex even though her fave position is on top. You're welcome in case you were up wondering about that at night.
As for MaMa Dee, she explained how exactly she previously got into the business of pimping women. She revealed that she is a Registered Nurse by trade. But after a car collision in 1996, she lost her job and turned to pimping women in the streets. Of course. Because going from the very skilled job of being an RN to being a pimp is the natural progression of events. I see she and Kim Zolciak have more than a few things in common.
She also told the story of previously making her working girls take their clothes off when they came off the street from selling their bodies. All so she could check their lady parts to make sure they were not stealing.
Dee revealed she previously moved kilos of drugs in the street to support her family.
She also explained why she told her son's girlfriend, Erica Dixon, on Monday's show that she needs to give Scrappy more attention. And she stands by it. MaMa Dee's words of wisdom: Women should be self-confident, BUT be "that Becky." Thanks Mama Dee.
Here's the full video of the show (Fast Forward to the 30 minute mark to see Ev & Dee).
More pics from the live show--attended by Derek J of course: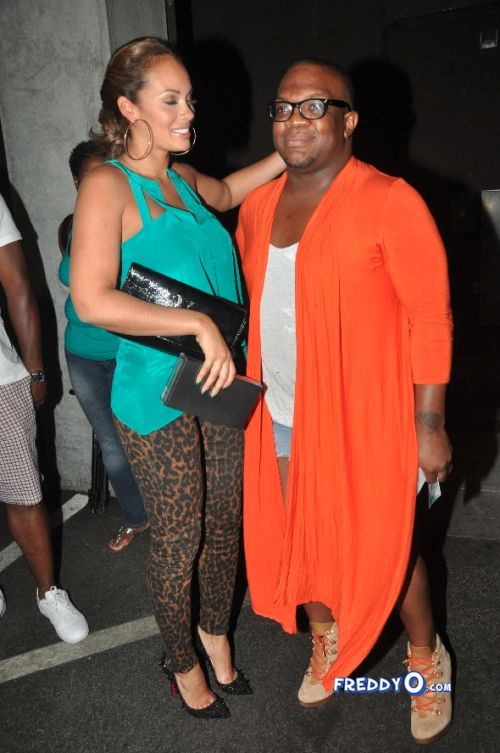 Pics via FreddyO.com
​ ​
​ ​ ​