Tamar Braxton DISHES To PYNK On LOVING Vince, LEANING On Mary J. Blige & WANTING A Baby!
​
Jun 29 | by _YBF
​ ​ ​ ​
In the latest issue of PYNK, reality tv vixen and singer Tamar Braxton reveals how much Mary J. Blige is a stronghold in her life. And...she's thinking about having kids with her hubby Vince. FINALLY. Check out her spread and highlights inside.....
Tamar Braxton, who'll be hosting this weekend's 2012 BET Awards red carpet, sat with PYNK Magazine recently where she dished on friends, love and babies. She's giving face and hair on that cover and we're loving it.
She told the mag that she's been blessed with a good friend like Mary J. Blige who prays with her and keeps her grounded. She also discussed how hubby Vincent Herbert and his health scare got her thinking about having babies.
Here are the highlights:
On when she first realized Vince was the one...

"I wasn't checking for Vince at first. He and I were friends. But it wasn't until I found out that he was seeing someone that it hit me. I realized I had feelings for him! When he told me that his relationship at the time was coming to an end, I knew it was my time to make my feelings known. After that relationship ended.. he and I started dating and eventually married."

On her desire to start a family ...

"I realized I wanted to have a child when Vince was sick in the hospital. I love him SO much and it was such a hard time for me. He is my rock. I was extremely nervous the entire time and I thought if I lost him tomorrow all I would have are photos. And I realized that I wanted more than that. A child would be a living reminder of our love."

On her relationship with Mary J...

"My sisters are my best friends for the most part but I'm also very close to Mary J Blige. When Vince was in the hosptial she was so supportive. Mary and [her husband] Kendu are the best. They made sure to check in on me and prayed with me for Vince's recovery. Mary is such a genuine and kind hearted person I'm blessed to be able to call her a real friend... Not an "industry friend."

Ms. Braxton looked fab in the candy colored summer garments.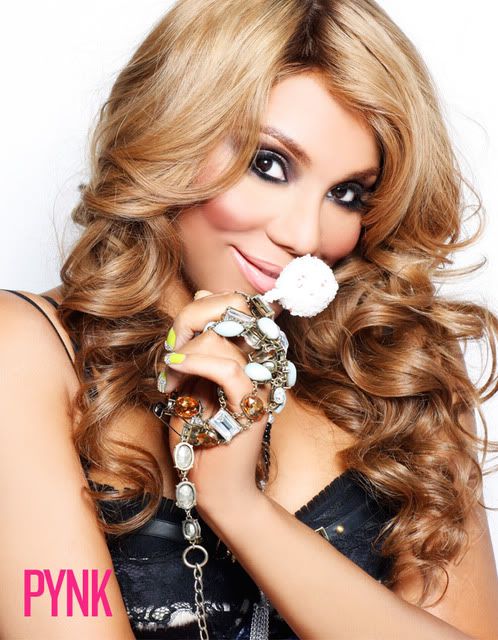 These cute photos will indeed get folks talking, but watch what you say, cause Tamar is good for hittin' a hater with a Cease And Desist!
This issue is on stands July 13th!
​ ​
​ ​ ​