Chris Brown Downs Entire Bottle Of ACE OF SPADES Solo At the Club....With His New Neck Tattoo
Jun 30 | by Natasha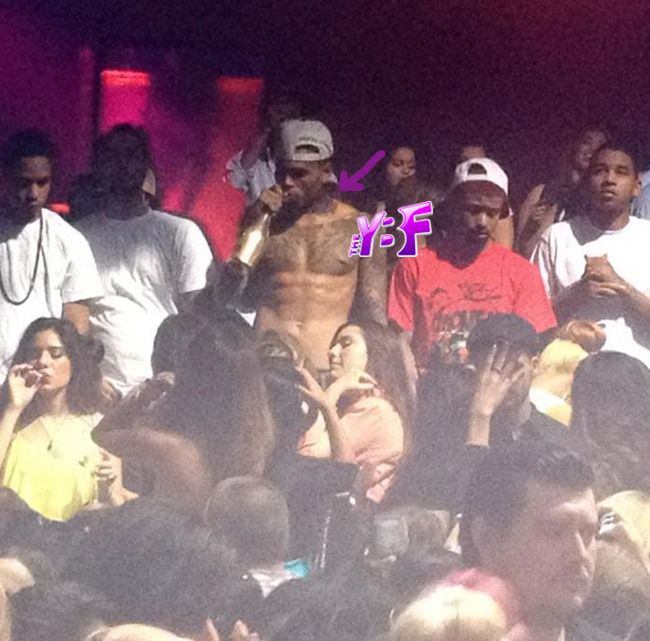 Downing an entire $2500 bottle of Ace of Spades by yourself is an easy task if you're Chris Brown. We've got an exclusive pic of the "Strip" singer engaging in a different type of bottle action than what went down a few weeks ago. Plus his huge new neck tattoo....
Friday night at Supper Club in L.A., Breezy blew off some steam--while likely also celebrating his upcoming Fortune album release--with a bottle of champagne.
We're told by a partygoer that the shirtless singer/rapper inhaled the entire $2500 bottle by himself while his crew stay "posted up" next to him. The "Till I Die" rapper is also set to perform at Sunday night's 2012 BET Awards...
We can also spot Breezy's brand new neck tattoo (that he copped right before hitting the club) in the pic above. His new ish is described by his tattoo artist (Peter Koskela) as "an indian chief transforming into a wolf."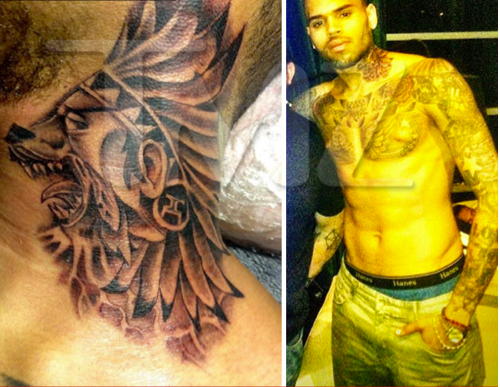 Well that's interesting. And even though it looks painful as all hell, Chris slept through the whole thing according to his tattoo artist who posted pic proof: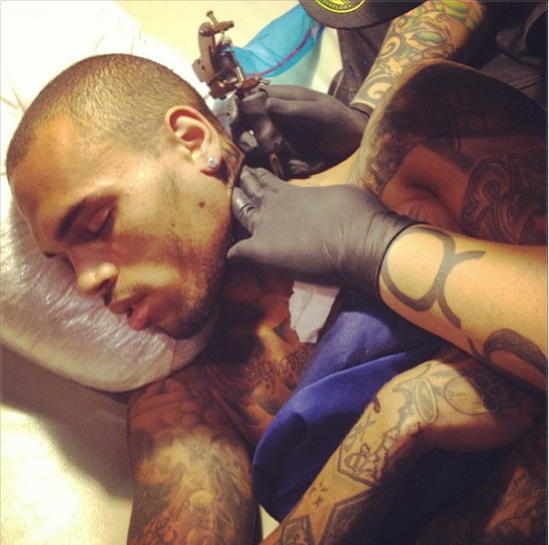 And in case you missed it, Chris released a diss to Drake today while rapping on The Game's new remix to Chief Keef's 'I Don't Like." CB tweeted right after it dropped, "Won't be no back and forth shit."
A few of the bars:
"One on one, what you scared bruh? / Huh, matter of fact, 'Take Care' bruh."
And, of course, talked some ish about that Chris vs. Drake fight night at W.I.P. nightclub:
"A fuck ni**a, that's that shit I don't like/ They throwin' bottles, I'm throwin' models, just 'cause I give a bitch long pipe. Doing shows on the soccer field/ that's dome right? I be singin', he be singin', so it's on, sight/ But hold up, I ain't give a ni**a no green light/ This head up, my bread up, one-on-one, what you scared, bruh?/ Matter fact, take care bruh, you a pu**y ni**a/ My ni**a Tunechi, yeah that ni**a nice/ Shout out to Nicki, man that ass tight/ Them eyebrows, man, them shits is yikes/ OVO, you overdosed, screamin' YOLO no, I live twice."
Sippin'...tattin'...dissin'....at the same damn time. Now that's talent.
Pics via TheYBF.com/Peter's Twitter