THE SHOW MUST GO ON: Michael's Kids & Grandma Go See The Jacksons Perform "Unity Tour" + Janet, Rebbie, Jermaine & Randy BANNED From Jackson House!
​
Jul 30 | by _YBF
​ ​ ​ ​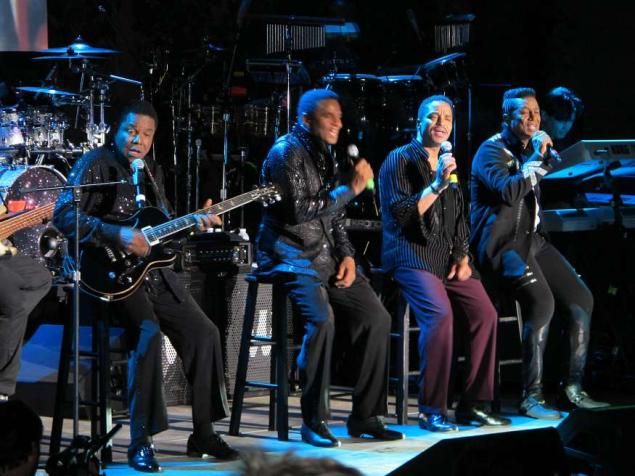 Despite their very public family dispute, the remaining Jackson brothers hit the stage for the "Unity Tour" in California recently. Get the deets inside and an update on Katherine Jackson and the kids.....
Though the family has been blasted with negative headlines from around the country, Jermaine, Tito, Randy and Marlon put on a united front for their "Unity Tour" concert in Saratoga, CA on Friday.
Katherine Jackson, who was greeted with applause, arrived in tow with Michael's children Prince, Paris and Blanket. Earlier on Friday, a lawyer for the Jackson family said that Katherine and TJ Jackson would be filing for joint guardianship and this is what the kids want.
But there's still a lot of family discord. It was revealed that Howard Weitzman, who represents John McClain and John Branca (the executors), sent an email to Charles Schultz, an attorney for TJ Jackson,recently barring Janet, Rebbie, Randy and Jermaine from the kids' home in Calabasas.
"Given the circumstances of the last two weeks, and in order to protect the children and Mrs. Jackson, the Executors believe that it would not be appropriate to allow the following individuals to enter the residence or its grounds and we instruct the security to preclude the following from entering the residence or the grounds: Randy Jackson and any of his children, Janet Jackson, Rebbie Jackson and any of her children, Jermaine Jackson, his wife and any of his children, Janice Smith, or anyone else who was involved in the recent events that led to Mrs. Jackson's separation from and inability to communicate with Michael's children, or any agents or representatives of any of these individuals."
Randy tweeted on Friday that the executors of the Michael Jackson Estate were trying to isolate Katherine "...just like they did to Michael, in order to propagate their lies, financial agendas and to protect a fraudulent will."
Sigh....it seems like this isn't over. And there will be more tweets to come.......
Watch Mrs. Jackson arrive here:
​ ​
​ ​ ​