WINNERS' CIRCLE: Team USA Track Relays & Wrestler Jordan Burroughs Cop Medals & Shatter Records!
​
Aug 10 | by Natasha
​ ​ ​ ​
More medals for Team USA's YBF Olympians! Check out the ladies and gents who joined the winners' circle on Day 14 in London....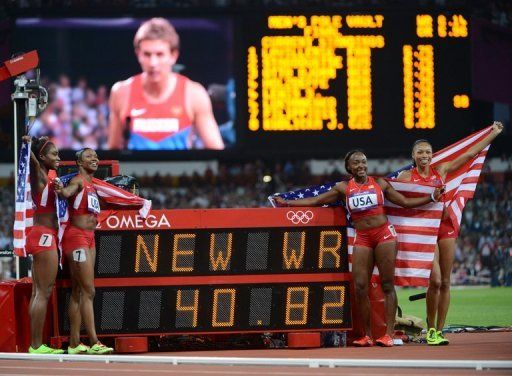 Not only did the USA ladies of the 4x100 track relays win Gold today, they broke the Olympic record! They broke a long standing World Record held by Germany, finishing the race in an amazing 40.82 seconds. (L-r top pic) Allyson Felix, Carmelita Jeter, Bianca Knight and Tianna Madison-also won the first Women's 4x100 medal for USA in 27 years.
Allyson Felix, who has already won an individual Gold this Olympics, said after the race:
"It was an absolutely unbelievable feeling. For so long . . . the records have been so out of reach. To look up and see we had a world record, it was just crazy."
Congrats to the track stars!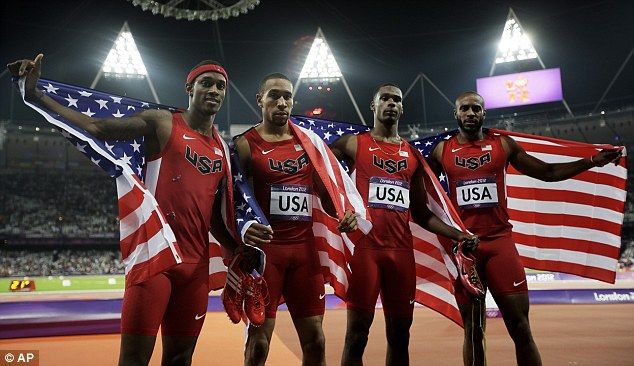 The guys held it down too by winning the Silver today in the 4x400 race. The 4x100 Men's USA team qualified for tomorrow's final as well. A little inspiration: Bryshon Nellum, second from left, was chosen to be the flag bearer for the USA delegation at Sunday's closing ceremonies after being voted to do so by the TEAM USA athletes. He was shot in BOTH legs just 4 years ago, and is back competing at the top of the game.
"I'm humbled by this incredible privilege," Nellum said in a statement. "Four years ago, I wasn't sure I would ever run again, and now I'm leading Team USA into the closing ceremony of the Olympic Games.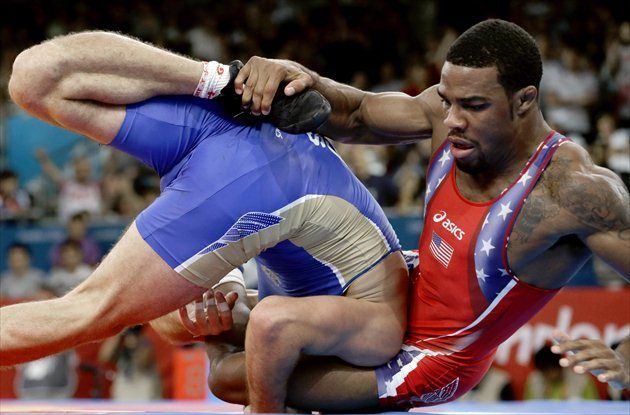 He's got America's only Gold medal in wrestling, and his body is pretty ridic too. 24-year-old Jordan Burroughs from Camden, NJ promised his Twitter followers he would be Tweeting a pic of his Gold medal before the final match even happened. And he did. And seeing that his Twitter handle is @AllISeeIsGold, he def has a lil confidence.
"Not a lot of people knew who I was coming into the Games, but hopefully that will change after this," he said. "I want to be among the athletes that I've read about and followed on Twitter, who had no idea who I was. Now maybe they'll see me."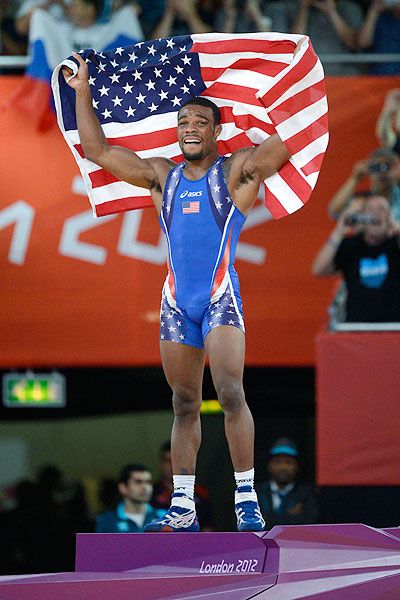 By the way, he only started wrestling his senior year of high school and had one of the worst records on his college team at Nebraska. After deciding he wanted to be more than just "another guy on the team," he worked his ass off the next 5 years....till winning his Gold medal today in the Freestyle. Congrats!
BONUS: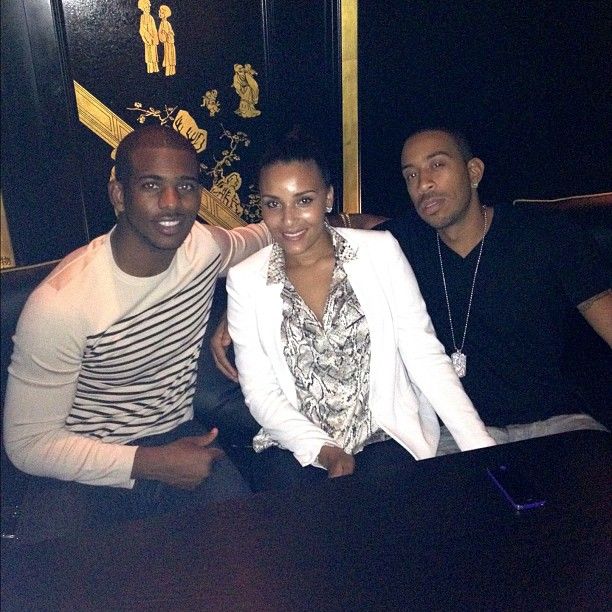 Dream Team baller Chris Paul Instagramed pics of his dinner with Ludacris and his girlfriend Eudoxie. Luda is in London shooting Fast & The Furious 6.
And the fellas snapped a pic in the locker room today after beating Argentina for a place in tomorrow night's Gold Medal game against Spain.
Pics: AP/Instagram

​ ​
​ ​ ​