NFL QB Cutie Cam Newton Gets Sexy For GQ Mag + Condoleezza Rice & Serena Williams Rock NFL Women's Apparel Campaign!
​
Aug 14 | by _YBF
​ ​ ​ ​
Carolina Panthers QB Cam Newton covers the September 2012 issue of GQ where he dishes on playing with Tim Tebow (who landed the other cover for the month) in college and mistakes he doesn't plan to repeat. Deets and more pics of the cutie inside, plus Serena Williams and Condi Rice repping for their fave football teams in a new NFL campaign inside.......
Yes please! Cam Newton, the 23-year-old Carolina Panthers quarterback with a smile that will melt even a non groupie's panties off, shares a dual cover with Tim Tebow for the latest issue of GQ.
Inside, he revealed that he wishes he was as focused at Tim was, and that he could have used their time together in a more productive way.
"If I had said to Tim, 'Man, can we spend some extra time to study the playbook?' he would have done it. I didn't take advantage of what was right in front of me. If I had, maybe his mentality would have hit me sooner. Basically, I was immature and unfocused. I would never, ever make that mistake again."
Also in the mag, he sang the praises of his father Cecil saying, "He was like my superhero. If something was broke, he could fix it. If I was lost somewhere, he would find me. If I was crying, he could cure it. I knew that if I had my father with me, everything was going to be all right."

Cam also expressed why he keeps his ego in check saying, "If I come out and say, 'I will be the greatest to ever play this game,' that's a no-no. If I come out and say, 'I will not be stopped this year,' that's a no-no. People want to see humble."

Well said cutie.
See his football & fashion focused spread below: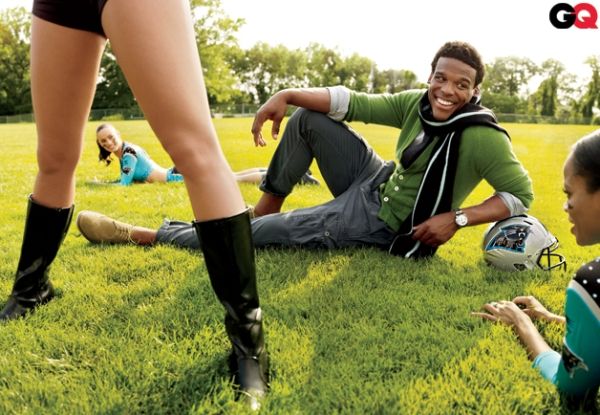 Don't do it Cam!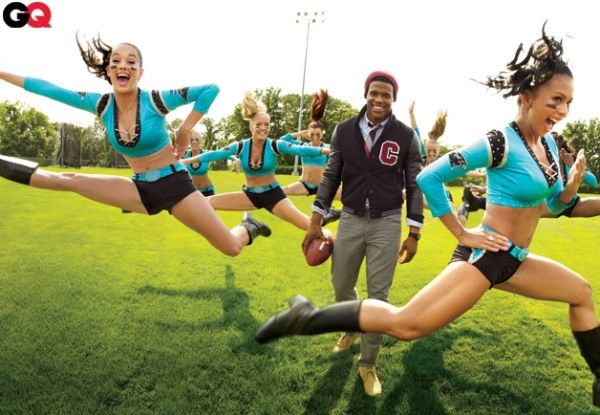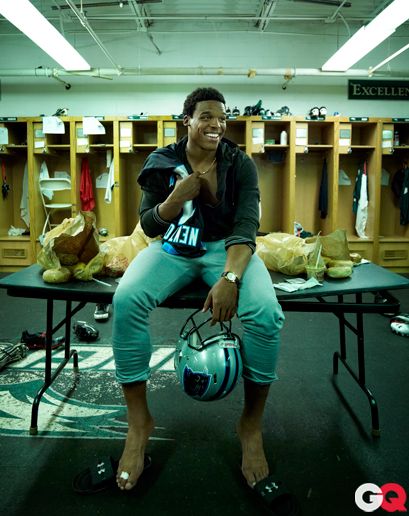 Sexy pics!
Also in sports........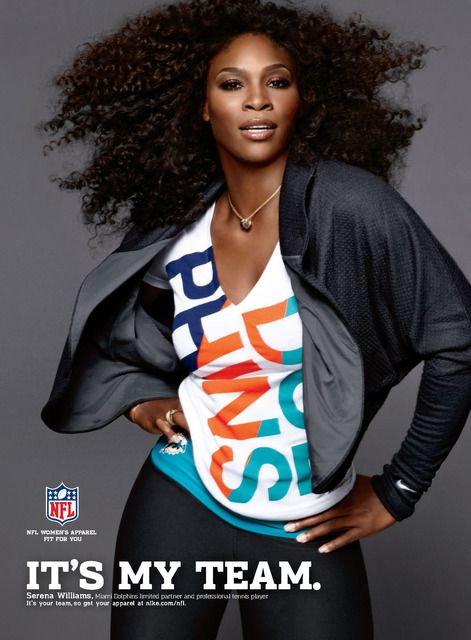 NFL Women's Apparel has just launched a new campaign called "It's My Team." It features an extremely diverse group of influential women, including Serena Williams, DJ Kiss and Condi Rice. The line features official NFL clothing like branded boots, glitzed out watches and fitted jerseys.
This is the first time we've seen former Secretary of State Condoleezza do an ad like this. And we're loving it. We all know she is a huge football fan and was once in talks to buy the Cleveland Browns. This is pretty cool to see her so laid back.
The Randomness:
1. "Sparkle" producer Debra Martin Chase inks TV production deal with ABC Networks. Story.
​ ​
​ ​ ​