First Lady Michelle Obama & Gabby Douglas Fly Into "Tonight Show With Jay Leno", Talk McDonald's Treats, Kissing The President & More
​
Aug 14 | by Natasha
​ ​ ​ ​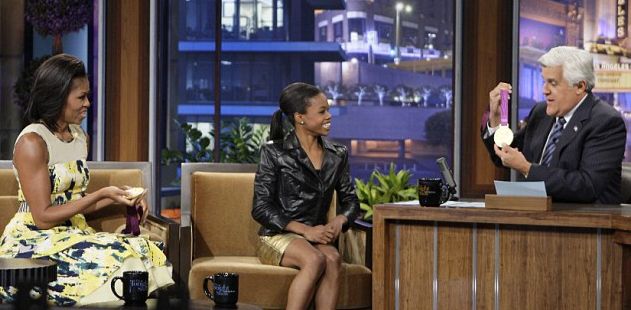 It was a night of YBF chicks on Jay Leno's couch as First Lady Michelle Obama stopped by, and so did Olympic Gold Medalist Gabby Douglas. Checkout their funny convo inside...
Glammed up in a gold BCBG bandage skirt and a black leather jacket, 16-year-old Gabby Douglas made one of her first big late night appearances last night on "Tonight Show With Jay Leno."
First up was Mrs. O who dished on that super cute Kiss cam hoopla at the Men's Basketball exhibition game in D.C. a little while ago. She explained the only reason she didn't kiss the President during the first Kiss Cam is because she had just walked in with the girls and was caught off guard and didn't realize this was the KISS cam. So Malia arranged for them to get a second try and moved right next to them to make sure they nailed it the second time. Ha!
Part 2:
Part 3:
The First Lady also dished on bringing her Let's Move campaign to London for a few days during the Olympics as the UK also is on a mission to fight obesity. And when she hosted the day of play at the US Ambassadors home, her playing with the kiddies and running under parachutes made the Secret Service go nuts.
Mrs. O stuck around for Gabby Douglas' segment. And when the teen superstar admitted her first splurge after the Olympics was a McDonald's egg mcmuffin, The First Lady jokingly told her not to admit that because she's setting her back!
Gabby also broke down how exactly these gymnasts do all these flips and turns on a 4 inch balance beam. And yes, she says she's definitely working to go to the Rio Olympics in 2016. Check Part 1 of her segment above and Part 2 below:
​ ​
​ ​ ​