French Montana's WIFE Claims He ABANDONED Her And Their Son After He Became FAMOUS!
​
Sep 10 | by _YBF
​ ​ ​ ​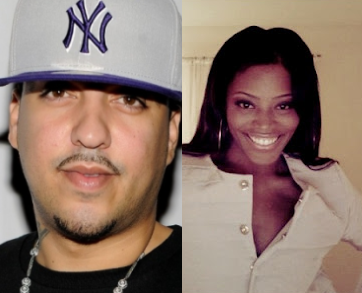 Though French Montana (aka Karim Kharbouch) was previously secretive about his marriage, the ish hit the fan this week when his wife Deen Kharbouch revealed that French abandoned her and her son after he reached that Hollywood status. Deets inside..........
Deen Kharbouch, the wife of MMG/Bad Boy "Pop That" rapper French Montana has revealed that he abandoned her and their son 2 months ago. She vented her frustration on Twitter where she remarked that he "flipped" on her as soon as he got a little success. The couple had been together 7 years and married for six. See her tweets here: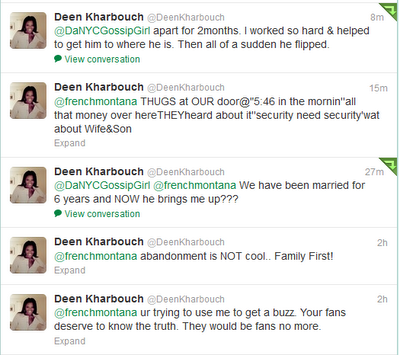 What set Deen off was an earlier interview French Montana gave where he suggested that fame and money ruined his marriage. He told The BoomBox, "Man, I couldn't do it; that's why we got separated. At first it was smooth, but then as much as people think that money changes you, it's changing them around you. A person ain't gonna treat you the same now that they think that you think you somebody."
He later added that the women who come along with the fame and money also ruined the marriage.
"You around so many beautiful women, that's a conflict too. It's just about finding somebody that understand the game, what you're into. But then on the flip side of the coin, you gotta understand their game, what they into ... There's a flip side to everything."
So French.....you left your wife and kids so you can "be around so many beautiful women" (and we all know what that's dcode for) because that's "part of the game"? Good luck with that.
French, who's Moroccan and was raised in the Bronx dropped a disc called Excuse My French in November and has signed a joint venture deal with Bad Boy and Maybach Music.
​ ​
​ ​ ​