First Lady Michelle Obama TEACHES THE DOUGIE To Dr. Oz + The Obamas Prep For The Jay-Z & Beyonce-Hosted $40K A Plate Fundraiser
​
Sep 12 | by _YBF
​ ​ ​ ​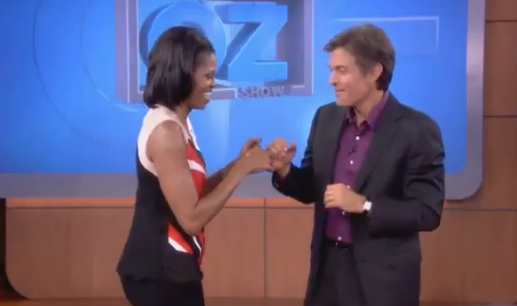 First Lady Michelle Obama appeared on "The Dr. Oz. Show" today where she promoted exercise and helped him with his Dougie skills. See the clip inside and find out about the fundraiser Jay-Z and Beyonce are hosting for her Presidential hubby. Also, get the deets on her upcoming speech for the Congressional Black Caucus.
As she tries to whip Americans into shape, First Lady Michelle Obama appeared on "The Dr. Oz Show" today touting her Let's Move campaign. While there, she dished on the President's campaign trail diet and talked about improving school lunches.
During a fun part of the segment, she told Dr. Oz that she sometimes hits the dougie with Sasha and Malia as a form of exercise. She then demonstrated some of her moves and attempted to school Dr. Oz on them.
Check the clip below:
The episode airs today.
And next Tuesday.......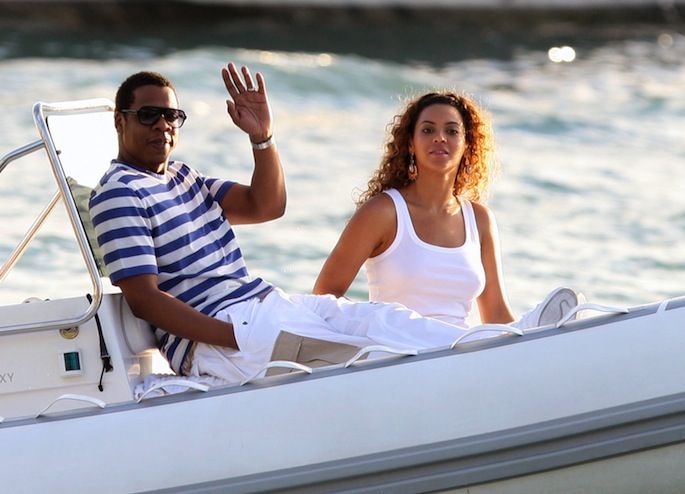 The President and First Lady will attend an exclusive fundraiser/dinner hosted by Jay-Z and Beyonce at the 40/40 Club in NYC. The guest list is limited to 100 people and tickets cost $40,000 per plate. The Prez at the 40/40? THIS ought to be interesting...
Earlier in the day, President Obama will attend a reception where families can pose with him for a $12,500 contribution.
And in other First Lady news, The Congressional Black Caucus Foundation has announced that Mrs. Obama will deliver the keynote address at their Annual Phoenix Awards Dinner on Saturday in Washington, DC. And with over 3,000 expected, this will be the first time ever that a first lady has addressed the prestigious gathering! Her husband has rocked the keynote address in previous years, but he will be out on the campaign trail this go-round.
The Phoenix Award will be given to four individuals who symbolize the immortality of the human spirit and who's work greatly benefits others in a postive way.
Dr. Elsie L. Scott (who also happens to be my fabulous aunt), President and Chief Executive Officer for CBCF, spoke about the event saying,
"We are so pleased that Mrs. Obama will serve as the keynote speaker for the awards dinner. As a former CBC Spouse, Mrs. Obama is quite familiar with our mission at the Foundation, and we are certain that her remarks will be both thought provoking, and most importantly, inspire our audience to do their part to prepare the next generation of leaders."
Good luck on your speech Mrs. Obama!
​ ​
​ ​ ​