IN CASE YOU WERE WONDERING: Buffie The Body REVEALS Why She Left The Industry And If Her BUTT Is FAKE!
Sep 19 | by _YBF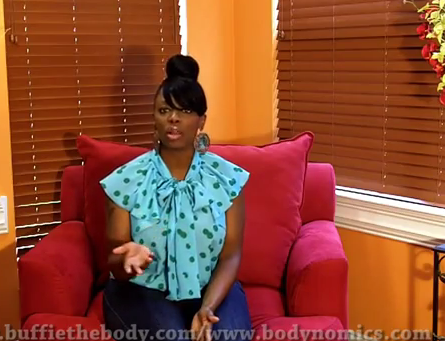 Legendary video vixen Buffie The Body has released a video where she breaks down why video girls / urban models are not making any money nowadays, why she left the video vixen world and if her butt is fake. Watch the clip inside......
In case you've ever wanted to know about the life of a video vixen, Buffie The Body has posted a lengthy testimonial where she talks about her ups and downs as a video vixen and how the money in the field has dried up. She also reveals that her butt is 100% real. Here are the highlights:



Buffie on why she eventually left the industry and how vixens make their money…

First of all, I had done all the magazines. Who's ever familiar with that industry know there's not a lot of magazines that we can appear in. It was only 7 major magazines that was main stream that we could be in – like us urban model/video girls and those 7 magazines was Black Men, Black Men SSX which is the Swim Suit Extra edition, it was Smooth, it was Vibe, it was XXL, it was King, and Source. So out of those 7 magazines I know I've done those magazines each several times. So far as the magazine game I had done all I could do. And it was only one of them that paid and that was the Black Men SSX edition.


Back in April of 2005, I put up BuffytheBody.com and you talking about a overnight sensation. When I tell you that I was making crazy money, I was getting crazy checks weekly from that website. And the beautiful thing about it I didn't have to pose nude, no porn, didn't have show no private area, I didn't have to show breasts, I didn't have to show you know your insides. I didn't have to do anything crazy it was strictly swimsuit. And a model back then who would start a website you could live off just those checks like pay rent, car note, shopping. That doesn't even exist no more.


The next thing is the music video. Back in the day when I started you get paid crazy loot to do a music video. Now I'm sure some of these models are still getting something but just the things I see know where these models are doing music videos for free. I don't know its just I think a lot of these models these days make it hard for their selves because they're selling out so badly. But you know back then we would get nice checks for music videos. Like I said, I've only did 3 but 2 of them I got paid really well but 1 of them I did as a favor for a friend it was a guy I was really cool with. The other two times before that I got paid well, you get treated well, you get paid well, you get put in nice hotels, you get flown to these video shoots.


Party hosting is probably where I made the bulk of my money. I've done probably easily over 300-400 parties. You get treated well and you made good money…I made a lot of money but you know at the end of the day even that slowed down.

All of that was a very short scope of what you could actually do in that industry. I did absolutely everything in that industry that I could possibly do without lowering myself or selling myself out or whatever. I knew once I had done everything it was time to move on. It was nothing left to do in that industry. It's a not runway type of modeling industry, we are not high profiled runway models where we're on all the covers of these big magazines and stuff like that. We wasn't really models – they called us urban models but we weren't really modeling any clothing or anything.




Buffie on whether her butt is real or fake…

It [questions about her butt being real or fake] started way before I was Buffy the Body. It started when I started gaining weight and my butt started getting huge. And most people know it don't take much for you to gain weight and once you start inhaling these calories or consuming these calories it don't take much for you to start growing…


I answered in my interviews back when I was Buffie the Body about whether my butt was real or fake I told people it was 100% real and I answered that question 50 million times and my butt is real. It's 100% real mixed with fat, muscle, and tissue, water or whatever else that runs through your body blood or whatever. My butt is real and I have said this 50 million times but there's some people out there that just want to believe what they want to believe and guess what, I'm not in the convincing game I'm not into trying to convince no more. That's not my job that's not why I'm here.
Watch Buffie's confessional here: